Popcorn and a double bill
Simple, no fuss. Calling them New Year's Eve movies might be a stretch, but these are charmers. Sleepless in Seattle (streaming on Binge and Foxtel Now), in which Sam (Tom Hanks) calls into a late-night radio show and catches the ear of Annie Reed (Meg Ryan), and When Harry Met Sally (streaming on Stan), in which Harry (Billy Crystal) and Sally (Meg Ryan) take the bumpy road to happily ever after. Can't fail.
Dig out a deck of cards
Uno is always a winner. But if you don't have Uno cards, go old school with a classic deck of playing cards, the most versatile entertainment you can find in everyone's bottom kitchen drawer. Pop on a tux and unleash your inner 007 with Blackjack or Poker, or put your slippers on for a cosy game of Go Fish, Crazy Eights, Bridge, Canasta, Euchre or 500. And, if you're alone, nothing will test your patience more than Solitaire.
Zoom your socially distanced friends
We've picked up a lot of strange new social habits in 2020, but few will last like Zooming. Or Bluejeansing. Or Housepartying. Group video-calling apps are here to stay. And this is fairly simple: prepare some snacks, pour a class of something, fire up the app and then just eat, chat and be merry. But no wardrobe malfunctions please. Or as your mum would say: "Darling, whatever you do, try and keep your pants on."
Upgrade your Zoom with parlour games
If you're feeling high-tech, then elevate your Zoom misbehaviour with a phone game app such as Heads Up (commonly known as Celebrity Head), which can be played easily on a video group call. Or, for something more adult, Kiss-Marry-Kill. But the all-time classic is Charades. The rules are simple: it's a book, a movie or a TV show, how many words, first word … and off you go.
Play pub trivia at home
If you don't have a trivia board game or book to lean on, there are a bunch of options online, the easiest of which is the Random Trivia Generator. All you need is your housemates, your family or, if you're planning to be alone on New Year's Eve, this also plays well on a group video-calling app.
A Broadway musical double bill
Loading
Leave it to TV to get the one thing they're supposed to be good at – scheduling – a bit wrong. But despite a poor overlap, there are two rock solid musicals on New Year's Eve. Hairspray (Nine, 7.30pm-9.45pm), the musical misadventures of American teenager Tracy Turnblad, and perhaps one of the great rock operas ever written, Jesus Christ Superstar Live! (Foxtel Arts, 8.35pm-10.20pm).
Break out the board games
You cannot go past the holy trinity – Scrabble, Cluedo and Monopoly – with honourable mentions for Boggle and Scattergories. But if you have no board-games at home, and no time to duck out and grab one from a store, download a print-and-play board-game from a web store like the Print-and-Play Arcade. Our tip? Avignon: A Clash of Popes, a very cool two-player game of Vatican intrigue.
Annoy the neighbours with DIY karaoke
You know you want to. Put on your jazzy shoes and sing up a storm with some internet-powered karaoke-in-your-bedroom by hitting up a website such as the Karaoke Channel. There's only a handful of free songs, but subscriptions start at US$4.95 for 48 hours. And that unlocks a huge library of karaoke classics.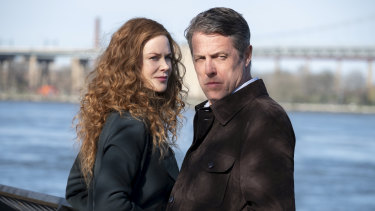 Binge Nicole Kidman's new show, The Undoing
It became the most talked about show of the year, about a hoity toity New York shrink (Kidman) and her cardigan-catalogue doctor husband (Hugh Grant), and the question of which one of them bumped off saucy new school mum Elena Alves? Was it Our Nic? Or handsome Hugh? Or Elena's looker husband, played by Ismael Cruz Córdova. All six episodes air on Foxtel's Box Sets channel from 3.50pm.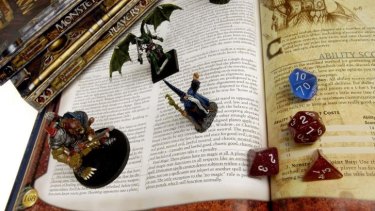 Unleash your inner Stranger Things and play D&D
Do you know the difference between a cleric and clay golem? Or a drow from a drider? Dungeons & Dragons is surfing a major renaissance thanks to Stranger Things and while the game books are sold in stores, the rules can be downloaded for free from publisher Wizards of the Coast. No dice? No worries. Your phone's app store will have a stack of digital dice-rollers.
Upgrade your D&D game and play online
Online gaming platforms pre-date COVID-19, but it's safe to say 2020 has been a boom time for them. Platforms such as Fantasy Grounds and Roll 20 feature shared digital table-tops, multi-player interfaces (with video and audio) and a range of built-in tools for different games, including digital dice rolling. Roll20 offers a free account tier so all you need is some pens and paper.
See the year out in style and go down with the sinking ship…
What better way to finish this year than with a New Year's Eve disaster movie. As Kath Day-Knight would say, team with the theme. Pop on your snorkel and book a ticket on Irwin Allen's 1972 disaster masterpiece The Poseidon Adventure (rent or buy on Apple TV, Amazon, Google Play or YouTube), about a passenger liner which is capsized by a tidal wave on New Year's Eve.
Michael Idato is the culture editor-at-large of The Sydney Morning Herald and The Age.