The Hillam Architects-designed, five-storey block will feature 39 apartments, a basement carpark, landscaped courtyard, public gardens, play space, and cafe on the ground floor.
Loading
Its carbon-neutral status will be achieved by fitting the building with 75-kilowatt solar panels and battery storage – which can be topped up with 'green' energy from the grid – water-saving fixtures, and a smart meter to monitor energy and water use.
Apartment owners will also be given a 50 per cent offset on their strata levies, the equivalent of $850 a year, for owning a carbon-neutral apartment.
OP Properties founding director Luke Parker said the company had been flooded with expressions of interest from investors and potential buyers, mostly Fremantle locals.
"Even before formal advertising has begun resulting in a number of apartments already being put under reserve," he said
"By combining a carbon-neutral design with reduced owners holding costs and beautiful and functional architecture, we've managed to greatly increase its appeal to buyers and approval authorities alike.
"In combination, these progressive initiatives have greatly reduced this projects commercial risk, so yeah our investors are pretty happy with how it's all going."
In an Australian first, a village micro-grid will also allow residents to generate and share power with their neighbours using a trading platform.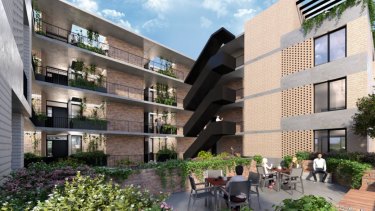 Fremantle Mayor Brad Pettitt said the building was another example of how the port city's commitment to sustainable development could also save residents money.
"In addition to the sustainability features, about 20 per cent of the apartments have been designed to cater to residents with additional mobility needs," he said.
"From the outset, the City's vision has been to transform the Knutsford precinct from an old industrial area into a template for a better way of living, so it's very exciting to see that vision becoming a reality."
Despite major consultation and development hurdles caused by the COVID-19 pandemic, the concrete will start pouring on the project from mid next year.
The project is estimated to be completed by late 2022.
Marta is an award-winning photographer and journalist with a focus on social justice issues and local government.