What Ms Askew did not expect was for the trend to take hold of the world with Canadians, English, Scots and Americans joining in the fun.
"They had permission to dress up and let their inner child out and I think that's how it went viral so fast," she said.
"I was amazed.
"Tarn Marley is a UK police officer posted every single day dressing up in characters like Fred Flintstone, Scooby Doo and me [Elsa from Frozen].
"The Bin Sheilas from Melbourne created a calendar to raise money for Impact – they help Victorian women and children from domestic violence situations."
Ms Askew said so many positive things came from the group.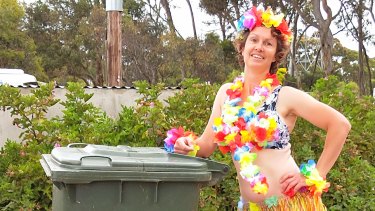 She raised $12,000 for Camp Quality and Doctors Without Borders but also making friends and reconnecting with her niece after losing contact.
However, with great power came with responsibility and Ms Askew found herself moderating nasty comments and introducing rules after online trolling became an issue.
"I'm a kindergarten teacher and I felt like I was teaching the whole world to be kind," she said.
"The page became a big responsibility."
Ms Askew archived the Facebook group on Thursday, as the world was returning to some form of normality.
"I feel guilty shutting it down but it's time to say goodbye while it's holding its head up high," she said.
"I dare say I hope to meet the people in the group I can now call friends when the borders open and we can go travelling."
Facebook users were sharing their last selfie with their bin, including Rachel Young from Victoria who did more than 30 isolation photos since April.
Ms Young thanked Ms Askew for creating the trend that helped everyone during the pandemic.
"It's 'Bin' a blast. I have certainly had fun dressing up and coming up with a new outfit every week," she wrote to the page.
"Just wanting to say goodbye to 2020 and aloha to 2021. Here's looking forward to getting out more than our bins."
Ms Askew said she had two final lessons for the world.
"Please use your kind words. It really does have an impact on people," she said.
"I always try to say one positive thing to a stranger because you never know what it might do to change their outlook."
Jocelyn Garcia is a journalist at the Brisbane Times, covering breaking news.