"Obviously the winner of that would have to fight Texeira, because he's not being demoted for any other reason than visas. It's a very good opportunity. Tim has got to be on point tomorrow, but it's awesome for Australian boxing. I'm very happy to be involved with that."
Tszyu tried not to look that far ahead at the weigh-in on Tuesday.
"I've got this guy in front of me and then we can think about that," Tszyu said.
"This guy" is Morgan, who has lost once in his 22 professional fights. The New Zealander is a $9.50 outsider despite being in good shape at the weigh-in.
The obligatory Tszyu-Morgan stare-off had none of the theatrics of the undercard event. Moments after Mark Hunt stood on the scales, opponent Paul Gallen did likewise with his shoes still on. The combat sports star threw a punch at the former footballer.
The contrived stunt was the latest in a hard and successful sell of the event, the first Sydney stadium fight since 2006.
"I saw every part of it coming too, just like I'll see every part of it [coming] tomorrow night," Gallen said.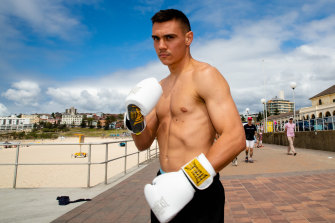 The first time Gallen and Tszyu were on the same card, the footballer was the main event. Tszyu was required to trade on his father's name and Gallen's fame to help build a following. Now Tszyu is the headline act and the former Sharks skipper couldn't be happier.
"I said from the start that this is what it's all about," Gallen said. "There's a lot of guys who bag the footy players for coming in [for] stealing the limelight, so to speak.
"But Timmy embraced it, jumped on the back of it. He's on the verge, if he wins this fight, of getting a world title shot."
Tszyu's father Kostya claimed the IBF world super-lightweight title against Hugo Pineda at the old Paramatta Stadium almost 25 years ago. Now Tszyu jnr will fight at the same venue. If victorious against Morgan, it could host a world title fight next year.
"That would be amazing," said Tszyu's promoter George Rose, of No Limit Boxing.
Loading
"It's unbelievable and well deserved for the amount of hard work that has gone into getting to where he is. He is a world-class fighter, that's the only way he deserves to be going.
"Bowyn Morgan is a really tough fighter that Tim has to beat, but that's added motivation for him knowing it's just around the corner.
"For us, we deserve to host it in Australia. Boxing deserves crowds, to have people to be there to see it live.
"Especially for a world title fight with Tim Tszyu, to have a world title fight in Australia, how good would that be?
"We're blessed in Australia to have some great venues that are unaffected like a lot of other countries with COVID restrictions. Australia is the obvious choice to host a major event like that."
Adrian Proszenko is the Chief Rugby League Reporter for the Sydney Morning Herald.