Loading
It's a model that is being replicated across the city. The sprawling Waterloo public housing estate in Sydney's inner south faces a similar transformation, albeit on a much larger scale.
"I find it horrific," said Emily Bullock, 68, an artist who has lived in her home at the Franklyn Street estate for 30 years.
"I didn't sleep for the first week or two with everything going around in my head."
Under the government's plan, about 110 dwellings in low-rise buildings at the 30-year-old estate will be bulldozed and replaced with "new and better social housing" and private units in towers.
The new precinct will include pedestrian-friendly streets, public art, open spaces, shops and a community space.
Hands Off Glebe residents' group member Denis Doherty said the government was replacing about 108 public housing dwellings with up to 130 homes and "beating their chests saying they're providing more social housing".
"What we have at the moment is a successful unit within the Glebe estate. It all seems to work fairly well.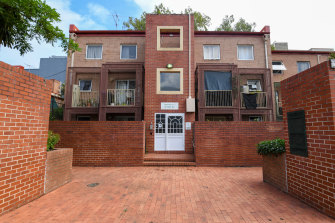 "Why suddenly putting well-heeled people with high-powered, high-paying jobs next to them will make any bloody difference, I just don't know."
The NSW Land and Housing Corporation says plans for the project will take up to two years and, if approved, no tenants would have to move out before mid-2022. Residents would be given at least six months' notice of any relocation plans, and residents would be able to return to the redeveloped estate, possibly sometime in 2025.
The new social housing dwellings would be "be better matched to the needs of residents, especially for those ageing or with a disability who need accessible units and lift access", a LAHC spokeswoman said.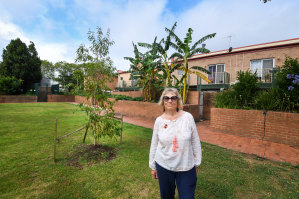 She said the project would also provide "an increase in private housing supply within a high demand area".
The corporation says it will submit a planning proposal request to the City of Sydney council in coming months.
Loading
Ms Bullock found out about the plans to force tenants from the estate when a folded letter addressed to the "resident" landed in her mailbox in November. She said they had not been told where they would be moved.
"They just said they'll do it one by one."
Balmain MP Jamie Parker said the government was not investing enough in building new social housing.
"Instead they are selling off public housing and public land in order to fund tiny increases in accommodation in the inner city while delivering bumper profits to private developers."
Alistair Sisson, a research associate at the University of NSW City Futures Research Centre, said redeveloping public housing estates with a 70-30 mix of private and public housing could harm tenants.
"A better approach would involve building new public housing on public land that isn't already used for public housing, acquiring new sites for public housing, and investing in the repair, maintenance and retrofit of existing public housing. This is really the only way to come close to meeting need," Dr Sisson said.
Start your day informed
Our Morning Edition newsletter is a curated guide to the most important and interesting stories, analysis and insights. Sign up to The Sydney Morning Herald's newsletter here.
Megan Gorrey is the Urban Affairs reporter at The Sydney Morning Herald.