A chat with Sydney Sixers general manager Jodie Hawkins before the Big Bash season convinced him to play on. O'Keefe was so impressed by the conversation he has urged more sporting organisations to employ female CEOs due to the empathy Hawkins showed him during some of his darkest days.
"It is hard to be that transparent in NSW because I just don't think, on that personal level, they understood you," he said.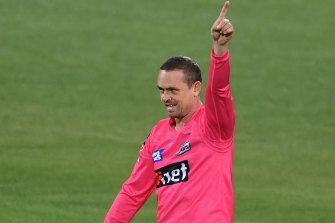 "You can be really transparent with [Jodie] and tell her how you feel and say, 'look, I've got reservations about this'.
"I genuinely think that Jodie and women as CEOs make better CEOs because they've got that empathy.
"They've got that understanding and that nature about them, which it does feel like you can go in and be yourself around them and that's just so important."
O'Keefe also gave credit to Sixers coach Greg Shipperd for his return. Before the season started, O'Keefe said he was "battling".
"[Shipperd] just said, 'whether you perform, whether you go OK, or whether you go poorly, there will be no judgment from his end, let's just keep checking in day-in, day-out'," he said.
"Because I've been sacked, I'm not all fired up and ready to go out there and play. I'm just grateful for the opportunity that I can come in and play with a bunch of good mates and under this organisation, which I think gets me as a player and as a person."
Loading
Sarah is a journalist for The Sydney Morning Herald.