Ms Charlton said the northern beaches virus outbreak meant she couldn't travel south of Narrabeen Bridge, her sister couldn't come over from Balmain and she wasn't able to visit her ill 89-year-old mother in Avalon.
"It's funny old time, it's been very quiet."
In Surry Hills, 120 people gathered across two sittings for The Winery's "orphans Christmas" lunch. It was set up years ago for expatriates, but venue manager Michael Gavaghan said it drew "a very different crowd this year".
"We've still got expats but we've seen a lot more Aussies this year. With the borders closed a lot of people have still been able to get together with their friends. Even the family section this year is full of groups of friends."
Among other Christmas Day plans to get a shake-up was The Rev. Bill Crews Foundation's usual Christmas lunch for hundreds of people in need at Ashfield. The charity had to shift the sit-down event to a takeaway service.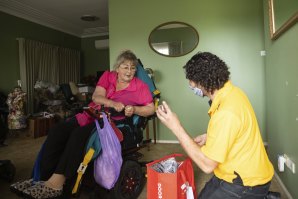 Fundraising manager Michael Kasavetis said about 40 volunteers also delivered meals and hampers to 50 people who had disabilities that prevented them leaving home – many of whom were "lonely souls" who lived alone.
Marie Heckenberg, who has multiple sclerosis, was "excited" to receive one of the lunches of roast meat, potato salad, bread rolls, cookies, pudding and custard put together "just to brighten people's days", Mr Kasavetis said.
"It's been a terrible year for a lot of people. Christmas is a tough time and it's important to mark these occasions."
Loading
More than 1000 worshippers typically crowd St Mary's Cathedral in the heart of the city for Christmas mass. This year, crowds at six services were capped at 300 people and singing was limited to socially distanced choristers.
Catholic Archdiocese of Sydney spokesman Michael Kenny said there was "a very positive, hopeful, very prayerful mood" despite the smaller congregations. He said the significance of Jesus' birth at Christmas was still relevant.
"The Christian message of hope and the fundamental values of love and care for each other have underpinned western society for more than 2000 years, and many societies across the globe. Those values are everlasting."
Megan Gorrey is the Urban Affairs reporter at The Sydney Morning Herald.