Those games, and potentially others, could be in jeopardy if anyone from the club sets foot in the northern beaches, with Queensland and Victoria both closing their borders to anyone who has been there in recent days.
It's been five weeks since the Sky Blues left for Doha, where the final stages of the ACL were played out in a hub environment, and a fortnight since they touched down in Sydney after failing to get out of their group.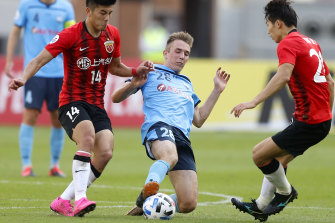 Had they gone past the round of 16, players and staff would have been cooped up in hotel quarantine over Christmas – but the prospect of being away from their families is now very real again for Corica, Nieuwenhof, defender Harry van der Saag, teenage striker Patrick Wood and back-up goalkeeper Levi Kaye, who all live in affected areas.
"You've been away five weeks – another four or five days, it's going to be tough. But it's what we have to do," Corica said.
"I'm not going home, I'm going into the city. There's another four boys from the northern beaches that won't see their families for another four days until probably Thursday morning [Christmas eve], just to make sure that we're staying out of the danger zone.
"We want to make sure the season goes ahead and we're taking precautions in that manner. It looks like another four or five days in a hotel."
If the situation worsens over the coming days, it could well be that they are unable to reunite with their families over the holidays.
For now, Nieuwenhof and van der Saag will stay with family in other parts of Sydney, while Wood and Kaye will join Corica in moving into hotel rooms in the city centre. None of them are able to even return home to collect their belongings.
"We've got to take everything into consideration – the games in Brisbane and Melbourne, making sure that we stay safe as well, because we've been safe this whole time," Corica said.
Loading
"We've had plenty of COVID tests, which we've all passed. It's just making sure that we take the precautions that we think are suitable and make sure we can train and start these games."
The rest of the squad, Corica said, was "excited" to have finally knocked over their 14-day isolation stint, during which the team has been allowed to train at their Macquarie University base under strict conditions.
"Spirits have been great. The last two weeks, it's been difficult, but I think it's going to pull our group together even more than what they are," he said.
Vince is a sports reporter for The Sydney Morning Herald.