Juan Carlos status as Spain's former head of state means he is immune from prosecution for any offence committed during his 1975-2014 reign.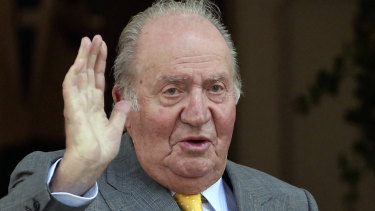 Nevertheless, Spain's Supreme Court this year began investigating him after reports of a Swiss probe into the payment of tens of millions of euros in kickbacks from Saudi Arabia's late King Abdullah in 2008.
The ex-king also the target of another probe into the alleged use by him, former Queen Sofia and other members of the royal family of credit cards linked to foreign accounts not in their names.
Earlier this month, his lawyer said Juan Carlos had paid tax authorities nearly €680,000 ($1.09 million) following a voluntary declaration of previously undisclosed income.
Loading
Juan Carlos has not been charged with any crime, and his lawyers have said he would return to Spain immediately, if required for legal reasons.
Felipe, who became king after his father's 2014 abdication, has tried to distance himself from Juan Carlos. In March, the Spanish monarch renounced any future personal inheritance he night receive from his father. He also stripped Juan Carlos of his annual stipend, which in 2018 was €194,232 euros.
The scandal nevertheless has encouraged some left-wing parties to revive calls to change Spain's form of government from a constitutional monarchy to republican. The party of Socialist Prime Minister Pedro Sánchez, however, is firmly backing Felipe, along with the conservative opposition.
AP