"I feel like I've been in pretty good nick."
The decision seemed to shake Silk, who dropped one of the easiest catches of the day despite being widely known as one of the best fielders across the competition.
After handing West Indies captain Jason Holder his Sixers cap ahead of the game, Josh Philippe failed to get the Sixers off to a strong start, shaking his head after he was dismissed for six by Daniel Worrall.
It was a far cry from the Sixers last game against the Renegades last week, where Philippe overtook the club's record by claiming the highest-ever individual score for his franchise with 95.
Worrall continued to have an early impact on the game on Sunday, finishing with figures of 2-12 after sending Jack Edwards to the sheds after 17 runs. The spell saw an incredible 18 dot balls off 24 deliveries.
The world's top-ranked Twenty20 bowler Rashid Khan stepped into the spotlight and broke a building partnership between Daniel Hughes, by sending James Vince for 19.
It was here Christian managed to run away, even in the face of Rashid, and claim the second-fastest half-century in the tournament's history before getting out for exactly 50 off 15 balls.
For a moment during the game, male cricketing fans collectively winced with Daniel Hughes hit square in the groin with a fastball from Peter Siddle.
Despite the brutal hit, Hughes went on to round out the innings not out for 46.
With Jordan Silk dismissed for 15, Sixers fans were also treated to their first taste of Holder in the magenta.
Holder managed to hit a maximum with his first delivery with the Sixers and hand the Strikers a target of 178.
Holder will also feature on December 26 and 29 after signing with the Sixers on a three-game deal.
Unlike the Sixers, the Strikers started off their batting innings strong before Christian saved the day once again to take the first wicket by dismissing Phil Salt for 28.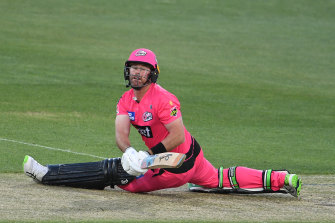 The effort was backed up by Ben Manenti who managed to claim the wickets of both Jake Weatherald and Matthew Renshaw during his overs.
Loading
Off his first delivery, Braithwaite then managed to take the huge wicket of Alex Carey – dismissing him to nine and setting the Sixers up for an easy road home.
With back-to-back wickets continuing to fall for the Strikers, Matt Short was dismissed for just three before Liam Scott fell after ten.
Rashid Khan was hit in the toe with a fastball causing him to drop to ground before being dismissed for 11 and seeing out the Strikers night.
Originally the game was scheduled for 11:10am on Sunday, but with the Test running short the match was upgraded to the prime time slot of 7:15pm.
Sarah is a journalist for The Sydney Morning Herald.