All of the cases were linked to one another, however under WA's risk management strategy, the state must reach 28 days without a locally acquired case to be considered 'very low risk' which is the threshold for quarantine-free travel.
A spokesman for Mr McGowan said the Premier had sent his apologies to Prime Minister Scott Morrison for being unable to attend Friday's meeting in person.
"While it is safe to travel to Canberra based on our health advice, given the restrictions in place for people who have knowingly mixed with residents of South Australia, it is appropriate that the Premier join the meeting from Perth instead," he said.
"It's important the Premier lead by example and follow the health advice."
In response, Mr Marshall queried why WA's health advice was different to other states.
"It doesn't make a lot of logical sense [for Mr McGowan to not want to be in the same room] but I'll leave it up to Mark McGowan to explain the advice he's received," he told ABC Radio Adelaide on Thursday morning.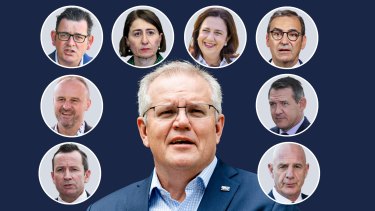 "The reality is that every other state's Premiers and Ministers have advice on South Australia's health and they will be at the meeting.
"I will leave it up to Mark McGowan to explain where he is getting his health advice from. I think South Australia has done an outstanding job staring down a second wave."
Prior to being notified Mr McGowan would not be present at the meeting, Mr Marshall had indicated he hoped to ask Mr McGowan to reconsider travel restrictions with SA in time for Christmas.
"I think there are many people in our state who have got friends, who've got loved ones in Western Australia. They would love to see them for Christmas," he said on Wednesday.
From December 12, all Australian states and territories will be open to one another except for WA, which will remain closed to South Australia, with visitors from the state required to self-quarantine for 14 days.
Under WA's 28 day rule, the earliest WA could open with SA would be Boxing Day.
Heather McNeill is a senior journalist at WAtoday.