The report says "hospital-dedicated police" were "important and valuable" and should be extended "where appropriate".
It also found the Princess Alexandra Hospital police beat worked well and the system should be extended to other Queensland hospitals.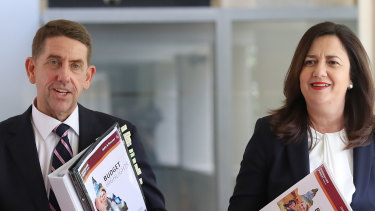 "Regional and metropolitan hospitals are large communities with daily populations larger than many towns," the report found.
"Police support is regularly required. Most large facilities have dedicated police liaison personnel. This is an important role and should be extended where appropriate. The police beat initiative at PAH was also seen as a very valuable model."
It comes as the Australian Workers Union warned of a steep and "more aggressive" increase in assaults against Queensland health workers.
The Royal Brisbane and Women's Hospital recorded 1372 incidents in 2018-19. That worked out to be about four incidents of violence each day, according to Queensland Health's own data.
Between 2016-17 and 2018-19, assaults against health workers went up 86.23 per cent on the Gold Coast, 61.24 per cent in the West Moreton region and 61.76 per cent in the Torres Strait and Cape York region, the figures showed.
Opposition health spokeswoman Ros Bates believed it would take "the loss of life of someone at a hospital before things change".
"Having a police beat there would mean that if there is an assault, the police can come over straight away," she said.
"They can take the body-worn security footage from the security guard, they can take the statement from the staff member, and they can charge the person before they even leave the hospital."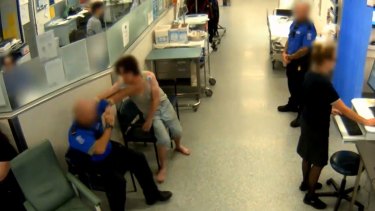 Ms Bates said police beats would be more effective close to emergency departments.
Queensland Health Minister Yvette D'Ath had no further comment to make on police beats, her spokesman said.
Australian Workers' Union Queensland branch secretary Steve Baker said on Tuesday the attacks were becoming more aggressive.
Loading
"AWU members have reported a steep increase in attacks on health workers and an escalation in the aggressiveness of the assaults," he said.
Mr Baker said the union supported increasing security staff or co-located police beats at hospitals.
"Whether it's in increase in hospital security officers or onsite police precincts, the AWU supports action on violence at Queensland Health facilities," Mr Baker said.
"Health workers deserve to go to work knowing that they will be able to go home safe and well at the end of their shift."
Tony Moore is a senior reporter at the Brisbane Times