Almost12 months ago, in January 2020, Brisbane Times reported a 40 per cent increase in the number of health workers assaulted since 2016-17.
Figures obtained from Queensland Health at that time showed stabbings, bashings and assaults had risen by an average of 40 per cent in 12 of the state's 16 health services since 2017.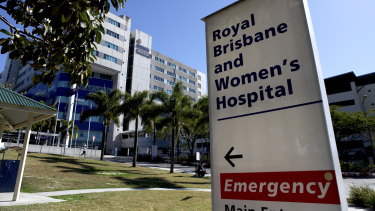 The long-running occupational safety issues for doctors, nurses and health aides prompted a major Queensland Health security review in 2016.
That resulted in the Occupational Violence Prevention in Queensland Health's Hospital and Health Services Taskforce Report, released in May 2016 and prepared for previous health minister Cameron Dick.
That report found: "The causal factors of aggression and violence in health settings are complex and interconnected. They include medical conditions such as dementia, delirium, mental illness or head trauma.
"Some individuals have attributes such as a history of substance abuse or difficulty dealing with stressful situations."
It recommended a Queensland Health Occupational Violence Taskforce, chaired by former Community Safety director-general Jim McGowan, to improve staff safety.
Ms Mohle's spokeswoman said the taskforce recommended "single nurse" stations be removed and for "plainclothes" specialists employed by Queensland Health to de-escalate serious issues, instead of allowing tense situations to boil over.
"We sit on the occupational health safety taskforce and we are reasonably happy with the things that have been introduced," the QNU spokeswoman said.
"It's a very real problem, but we don't believe it is being ignored."
Loading
A Queensland Health spokeswoman said Queensland, along with other states, "is facing unprecedented challenges regarding violence towards our health staff".
"Sadly, it is a trend that is reflected broadly in the community.
"However, Queensland Health is the first jurisdiction in the country to pioneer initiatives such as body-worn cameras, staff de-escalation training and public awareness campaigns."
She said the number of security officers had risen since 2017, and security staff now work with Queensland Police for negotiation and de-escalation training.
Queensland Health has introduced standardised occupational violence prevention training for staff and more closed-circuit television cameras and duress alarms across the state's public health facilities.
The Queensland Health spokeswoman said staff were more willing to report security issues, and standardised incident response kits have been provided to "guide and support managers".
Tony Moore is a senior reporter at the Brisbane Times