The company only lists the product's active ingredients on its website: cassia oil (from cinnamon), aniseed oil, dill oil, magnesium carbonate and ammonium bicarbonate.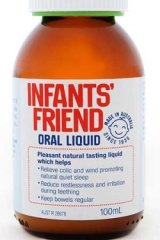 There is no public mention of chloroform or any other inactive ingredients.
The TGA has warned that while intermittent use of the product is "not expected" to be harmful to children, the product label does not specify a maximum number of doses or duration of use, which may lead to prolonged use at harmful high doses.
"When used at high doses, Infants' Friend oral liquid can expose children to levels of chloroform that are higher than the level established to be safe," the TGA said in a statement.
"At high doses and/or following long-term use, chloroform is known to cause damage to the liver, kidneys and nervous system.
"The established safe level of intake for chloroform is based on studies in animals and include wide safety margins."
According to the Australian Government's National Pollutant Inventory, chloroform is a clear, colourless, volatile, non-flammable liquid with a pleasant, sweet odour. It is primarily used in the production of refrigerants and plastics and in the manufacture of other chemicals.
The TGA has recommended parents to stop using the product immediately and return any remaining product to the place of purchase for a refund.
Until now Infants' Friend has been widely sold at major supermarkets and chemists, including Coles, Woolworths and Chemist Warehouse.
Infants' Friend was considered a "grandfathered" medicine, the TGA said, which means it was available in Australia prior to 1990 when the regulator was first established.
"As a grandfathered medicine, the TGA has not evaluated Infants' Friend oral liquid for safety, quality or effectiveness," the statement says.
"Further regulatory actions are being considered to ensure any future supply of this medicine meets the TGA's high standards for safety, quality and effectiveness."
If you have any questions or concerns about this issue, talk to your health professional or contact Infants' Friend Pty Ltd customer service on 1800 981 403.
If you suspect your infant has had an adverse effect to this product, please report it to the TGA.
Rachael Dexter is a breaking news reporter at The Age.