One of those students feeling a "little anxious" was Ellenbrook Secondary College graduate Brayden Antunovich, who received an ATAR of 61.90.
"I could have done a lot better especially as my predicted score from the end of last year was 75.55, but I'm still happy with it as it's better than nothing," he said.
"Earlier this year was even worse due to the lockdown we had … after the first semester I picked up my marks a bit."
Brayden, who was awarded the year 12 mathlete champion at his school, wants to study cyber security and is unsure yet whether he'll go through the university or TAFE.
TISC executive officer Wayne Betts said 2020's year 12s had done a great job to keep focused during an uncertain and challenging year.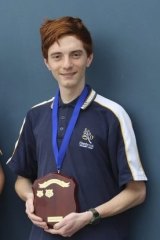 "I think most people will be relieved that we've managed to get to the end of the year without too much disruption, compared to how things were looking in March and April," he said.
"Some students may already have early offers from universities; others will still be waiting to hear about the outcome of their university application (especially for some of the high-demand courses).
"Many year 12s review their applications and change their minds after they get their results."
Students who have applied to university through TISC will have until 11pm on January 8 to review and rearrange their preferences for the main round of offers on January 15.
Mr Betts assured students that TISC and the universities would be available during the Christmas/New Year holiday period (except on public holidays) to help students who may need advice after receiving their results.
"There are numerous pathways available to year 12 students these days," he said.
"So even if they're a bit disappointed with their results, if they get the right advice, they can keep moving towards their education and career goals."
Lauren is a casual journalist at WAtoday who reports on education and general news.