Mr Stokes said the pandemic would slow population growth in the short term but would not alter the long-term increase that informed housing and land development targets.
"We still need more houses to catch up with a structural shortage in housing supply, and to meet the changing housing preferences of our community," he said.
"A sudden drop in immigration doesn't correlate to a similar drop in housing demand."
Mr Stokes said the figures underscored the fact that Australia could not rely on migration to act as economic lever to offset the impact of the pandemic like in previous years.
House prices in regional NSW have out performed those in Greater Sydney. Prices in regional NSW have risen by 3 per cent since April, while in Sydney they have fallen by 3 per cent.
Rental vacancy rates have risen in Sydney's eastern suburbs over the course of 2020, which the report largely attributes to fewer international students and tourists.
"The return of short-term rental properties, such as Airbnb, to the long-term rental market has exacerbated this drop in demand for rental properties," it said. "Plus, additional new supply is entering the market [in the city's eastern suburbs]."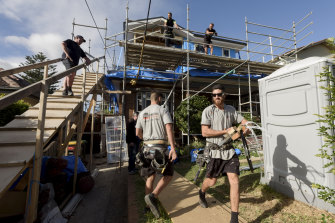 In contrast, suburbs in the middle and outer rings of Sydney such as the Hills, Sutherland and the south-west have seen a tighter rental market as vacancy rates have declined.
Rental vacancy rates have also fallen substantially in some regional areas such as Orange, the Central Coast, Wollongong and Port Macquarie, which the report suggests might be due to some people moving farther from central Sydney during the pandemic.
Loading
"This may become a long-term shift, especially if businesses can maintain flexible work arrangements. If flexible working remains, population growth may increase in regional areas," the report said.
Bill Randolph, the City Futures Research Centre director at the University of NSW, believed the scale of any shift in people to regional areas was limited without incentives such as improved communications and fast rail. "The sort of people who can up sticks and go is probably fairly limited. And there are only so many houses in regional areas and towns that can soak up people," he said.
While he agreed that more homes were needed, Professor Randolph said the fact that insufficient numbers were being built was due in part to the cyclical nature of the construction sector, which had experienced a downturn over the past two years.
"There really is a question as to whether the state government will be committing to affordable homes, as opposed to the homes that the market wants to build," he said.
"A lot of people can't afford to buy or rent."
Matt O'Sullivan is City Editor at The Sydney Morning Herald.