"The National Party will be working to bring back a SEPP (State Environmental Planning Policy) to deal with koala habitat, bring back a strategy that deals with doubling its population and protecting its habitat."
Mr Kean said he was confident the coalition partners would be able to reach an agreement on the divisive policy.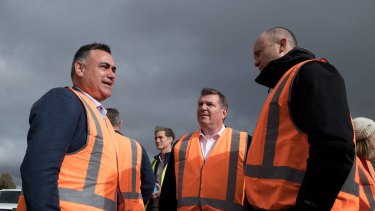 "Just like we did on energy, the Deputy Premier and I will find a way through this issue that protects private property rights and helps preserve our most loved and iconic animal," he said.
Mr Kean has recently made changes to the biodiversity trust's board, bringing in former deputy NSW Nationals leader Niall Blair who is now a professor of food sustainability at Charles Sturt University, and economist John Pierce, the former Australian Energy Market Commission chairman and state treasury secretary.
Those moves were approved by cabinet on December 14.
Mr Barilaro said he had no regrets about the way he handled the original koala SEPP dispute but acknowledged his party had been "damaged" by an internal war.
The Nationals leader took a period of mental health leave in the midst of the September infighting. He said his relationship with NSW Premier Gladys Berejiklian had changed following the dispute.
"I think we're moving away from a more personal relationship, a friendship relationship, to a very professional relationship," Mr Barilaro said.
"It's changed. There's no doubt my relationship with Gladys has changed."
While the coalition worked to find a middle ground for the original policy, it eventually failed to pass the NSW Legislative Council after Liberal MP Catherine Cusack voted against her own government.
Opposition planning spokesman Adam Searle said the government's history on the policy was evidence it was in "disarray".
"The abandonment of the local land services legislation in Parliament now means there is no indication of what this government's policy is," Mr Searle said.
The Nationals are planning to revisit their September requests of reducing the proposed number of koala-feed tree species from 123 to 60, as well as ensuring private native forestry is decoupled from the SEPP.
Planning Minister Rob Stokes, whose office was ultimately responsible for the policy, last month indicated he would not be willing to concede any ground on the number of tree species protected.
Mr Stokes said he looked forward to finalising the revised koala strategy and SEPP with his cabinet colleagues in the new year.
Tom Rabe is Transport Reporter with The Sydney Morning Herald.