"It shows blatant disregard for public money."
Mayor Jilly Gibson said the council needed to get started on the reconstruction, which has been frustrated by cost blowouts, heritage concerns and delays to the council's previously published project timeline.
"This is a Christmas present for the people of North Sydney. I'll tie a big gold bow around the contract," she said.
Cr Gibson said the most recent budget increase was "peanuts" given the pool's expected 50-year-plus lifespan.
In November 2017, the council voted to redevelop the pool for an estimated $28 million. By March 2019, the council said changes to the scope of the project meant that estimate had risen to $57.9 million.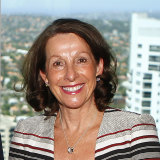 Councillors voted to reject all tenders submitted by companies wanting to redevelop the pool and to instead allow Mr Gouldthorp to negotiate the final contract with the preferred builder.
The final contract must be approved by a committee of Cr Gibson, deputy mayor Stephen Barbour and councillor Ian Mutton.
Councillor Zoe Baker, who has voted with Cr Beregi on pool matters, thought it was "bordering on the edge of lawfulness to delegate to three councillors oversight of the final details of a project of this size and scale".
"It's particularly wrong … in a context in NSW that when councils fail it's always on these big projects where there's a lack of transparency and oversight," she said.
Mr Gouldthorp said having the three councillors approve the agreement was "extra due diligence", while Cr Gibson said delegating the finalisation of the contract to the general manager was "totally standard practice".
"This couldn't be more transparent," she said.
Of the budget increase, Mr Gouldthorp said: "All pricing estimates prior to the tender process are subject to market pricing."
"The additional funds provide contingency which may or may not be used as the project progresses."
Cr Beregi is among three councillors who will attempt to move a recision motion next week to overturn multiple decisions about the pool that were largely debated behind closed doors at Tuesday's meeting.
Loading
Councillors also voted for the pool to remain open until a contract for the redevelopment has been signed, after a plan to shut the complex on December 31 triggered backlash from councillors and local residents.
Cr Gibson said it was the council's ambition to have the contract for the project signed by the end of the year.
Start your day informed
Our Morning Edition newsletter is a curated guide to the most important and interesting stories, analysis and insights. Sign up here.
Megan Gorrey is the Urban Affairs reporter at The Sydney Morning Herald.