The mental health sector is often criticised by political leaders, and other social commentators, for not being more united in its advocacy or focused in its key "asks" of government. Consequently, it is easy for governments to argue that it is still necessary to hold more stakeholder consultations, parliamentary enquiries, inter-governmental meetings, royal commissions or human rights investigations.
Frankly, in 2020, these delaying tactics are no longer acceptable. In late October, the Australian Bureau of Statistics released its annual cause of death data for 2019 . In terms of productive years of life lost, suicide dwarfed all other causes. It accounted for 115,000 years lost annually, with heart disease a distant second (78,000 years lost prematurely). In the COVID-19 era, many expect a worsening mental health toll, particularly among younger people.
Prior to the October 2020 budget, a broad cross section of the mental health sector presented the Morrison government with a four-year $3.7 billion proposal to implement immediately a range of widely agreed priorities. The sector assumes that the states and territories will also commit funds, workforces and infrastructure to deliver a regionally focused program of work.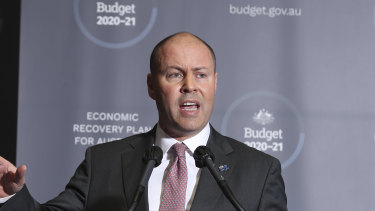 Our report focused on five key areas, including: the national rollout of comprehensive follow-up services for those who attempt suicide ($800 million; a proposal strongly endorsed by the Productivity Commission report); creation of a funding pool for enhanced social supports ($1.2 billion to sit alongside further improvement of the National Disability Insurance Scheme); establishment of new more specialised multidisciplinary teams working in community settings to support general practitioners and other primary care services ($1.2 billion with $600 million focused on adults and $600 million focused on children and youth); deployment of new digital services and technology-based co-ordination of care ($400 million, another high priority from the commission's report); and, strong support for regionally focused planning and implementation of new services ($100 million).
Other big reforms have also been proposed including public purchasing of private hospital beds and services to take pressure off our public emergency departments. Another proposal that dates back to the Rudd government Health Reform Commission suggests that the Commonwealth be responsible for funding all community-based mental health services, leaving the states to focus on their critical public hospital, public housing and forensic responsibilities. In 2015, the National Mental Health Commission recommended that new growth money in mental health be invested in community services (favouring early intervention) and not more hospital beds.
Loading
The October 2020 budget did not take forward any of these major reforms. The government stated that it was awaiting the release of the final Productivity Commission report (which it had received at the end of June 2020). So, what's the rationale for another report? Well, the Morrison government has created a new "national cabinet" model and now seeks to engage the states and territories in a common approach to reform and also wants to await the final report of Victoria's royal commission into its mental health system.
What COVID-19 has really shown us is that when governments really wish to take actions, they do. Largely, they do this with the consent of the wider community. At this stage, I'd suggest that on mental health the community expects its governments to talk less and do a lot more. And do it now.
Ian Hickie is the co-director, health and policy at the Brain and Mind Centre, University of Sydney.