Bans on harbour foreshore gatherings, caps on outdoor groups to a maximum of 30 and limits on New Year's Eve guests at just five for the Greater Sydney region were already looming as obstacles for those planning to venture out on Thursday night. Add to that a good chance of a shower.
Loading
"If you are going out, taking an umbrella will be a good idea," Mr Domensino said. Light winds and a temperature of about 20 degrees at midnight would probably rule out shorts and tee-shirts as optimal attire to cheer in the new year.
For now, the Bureau of Meteorology is forecasting a shower or two for Thursday with 1-8 millimetres of rain, with the pattern of persistent onshore winds likely to guarantee clouds and showery days for a while yet.
New Year's Day and Saturday are likely to bring to highest rainfall totals over the next week, with as much as 20 millimetres on both days, ensuring 2021 "starts the year on a wet note", Mr Domensino said.
December this year is very much a contrast to 12 months ago. To end 2019, Sydney recorded just two days when Observatory Hill recorded at least 0.2 millimetres of rain, compared to 19 this month and a December average of 11.5 days.
Loading
Total rainfall in December 2019 at Observatory Hill was a record low 1.6 millimetres or barely 2 per cent of the long-run average of 77.1 millimetres, Bureau data shows. Evaporation was 241.6 millimetres or about double the norm.
With a day to go, Sydney's rainfall was nudging 120 millimetres or still shy of the 204 millimetres in evaporation despite the relatively clouding conditions.
Temperature-wise, this December will come in about a degree warmer than the long-run average for maximums of 25.2 degrees, and the warmest day reached 30.8 degrees. December 2019 averaged 28.1 degrees during the days, and the hottest day was a shade under 40 degrees.
The current damp and cloudy period for Sydney and eastern Australia is hardly unusual for this time of year, particularly during a La Nina period in the Pacific. During La Ninas, equatorial rainfall patterns shift westwards as easterly tradewinds strengthen.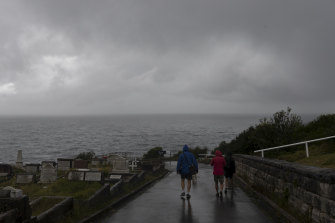 While most of the state can expect 25-50 millimetres of rain over the next week – with parts of the north-east coast likely to receive double that – heavy bursts are unlikely except for areas caught under thunderstorms, Mr Domensino said.
"It's probably the best way for rain to fall," he said, referring to the steady daily accumulations.
The lack of sunshine over the next few days may deter beach visits assuming authorities keep them open, given the rising tally of coronavirus cases.
Rainfall, though, will mean swimmers should also monitor water quality, with Beachwatch NSW on Wednesday predicting that pollution was likely at most Sydney's beaches.
On the positive side, almost all of NSW has low to moderate bushfire risks to end 2020, with only the Riverina rated high on New Year's Day. By Saturday, all of the state will be rated at the lowest level for bushfire danger.
Peter Hannam writes on environment issues for The Sydney Morning Herald and The Age.
Most Viewed in Environment
Loading