"Those are the three important subjects the President has linked together," he said. "This week the Senate will begin a process to bring these three priorities into focus."
The shifting Senate winds come a day after the House passed a bill to plus up stimulus cheques with a bipartisan 275-134 vote. That proposal, called the CASH Act, aims to boost the $US600 payments authorized in the massive year-end spending-and-relief package that Trump signed Sunday by another $US1400.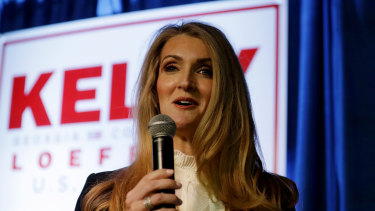 After McConnell spoke on Tuesday, Senate Minority Leader Chuck Schumer, then made a request to take up the House-passed bill.
"There's a major difference in saying you support $US2000 cheques and fighting to put them into law," he said.
"The House bill is the only way the only way to deliver these stimulus cheques before the end of session. Will Senate Republicans stand against the House of Representatives, the Democratic majority in the Senate, and the president of their own party to prevent these $US2000 cheques from going out the door?"
Loading
McConnell objected without further comment.
The debate has created strange political bedfellows, aligning Trump with his Democratic foes in Congress, who have sought larger stimulus payments for months amid signs that the economy has worsened.
The Georgia senators joined Senator Marco Rubio, who endorsed the idea on Monday, and Senator Josh Hawley, one of its earliest proponents.
"Absolutely, we need to get relief to Americans now, and I will support that," Loeffler said on Fox News. Perdue, meanwhile, tweeted hours later he backs "this push for $2000 in direct relief for the American people."
The new wave of Republican support left Hawley convinced hours later that the Senate has "got the votes" to advance the proposal, adding in a tweet: "Let's vote today."
Emboldened politically, Senator Bernie Sanders, also issued his own ultimatum on Monday, threatening to hold up the chamber unless lawmakers are able to vote on the heightened stimulus payments.
Washington Post