Loading
"We've got an awful backlog of rivers that have to be dealt with," Professor Harris said. "The more we obstruct movement, the more species will decline and ultimately disappear."
The solution, as conceived by Professor Harris and being developed by a UNSW team of ecologists and engineers, may be fishways that can be built using standard tubing and specially designed values at a fraction of the cost of concrete and steel structures.
With the latter often operational for just a third of the time, the effectiveness of so-called tube fishways adds to the appeal.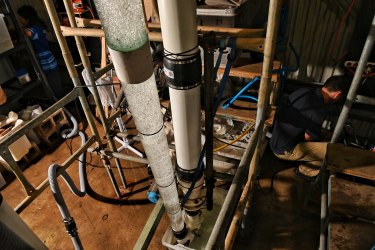 Researchers at UNSW's Water Research Laboratory in Manly Vale say they have been able to marry the knowledge of applied fluid dynamics and the behaviour of fish species such as silver perch to develop a type of syphon that can pump fish to a higher level without harming them.
"It goes super quick," Stefen Felder, one of the engineers, said. "Fish don't realise what's happening – it's over in about two seconds."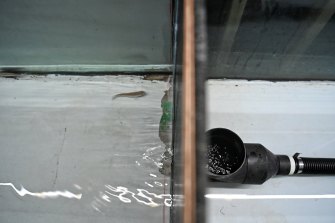 The fish are protected by a cushion of air, with the pressure coming from the difference between the upper water body where the fish end up and the lower one where they start. The mechanism was understood as far back as the mid-18th century by Swiss mathematician Daniel Bernoulli.
While the two prototypes were limited to four and eight metres, the process is likely to work at much longer lengths, making the tubes applicable for most dam walls.
"Our numerical modelling work shows that this system will work reliably for pipes at least one metre in diameter, lifting fish more than 100 metres vertically," Bill Peirson, a UNSW engineering professor, said. "This is potentially a game changer in the ecological management of large dams."
Loading
Key to the prototypes' success has the been the development of the intake funnels that create a subtle flow of water that attract fish without bait or other lures. Tests using silver perch and Australian bass have been successful, and the process will be tried on other species.
"Once they are in the tube, they can't escape" before they are transported to the higher level, Dr Felder said, adding the technique should be able to work the other way with modifications to allow fish to migrate downstream too.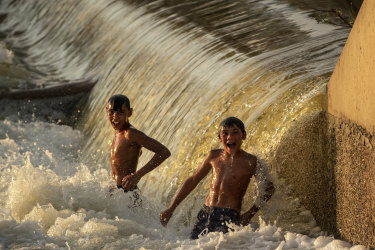 Part of the funding for the fishways has come from NSW Fisheries. The tubes first outing in the wild could be at the Marsden St Weir on the Parramatta River. The scientists are discussing plans with Parramatta City Council.
"I'm encouraged that the successful final design is ready for application," Professor Harris said. "The globe's the limit."
Start your day informed
Our Morning Edition newsletter is a curated guide to the most important and interesting stories, analysis and insights. Sign up here.
Peter Hannam writes on environment issues for The Sydney Morning Herald and The Age.
Most Viewed in Environment
Loading