"(It's) the safest bit of water on the planet in my view," he said.
"It's a COVID world so no one can guarantee anything but if you were putting a bet on a place for a safe destination as far as any event, this would be it.
"Anyone who comes to WA has to comply with our obligations around COVID."
There have been three fatal shark attacks in WA this year with two in Esperance and one in Broome.
Surfing WA chief executive Mark Lane said the event would be celebrating its 40th anniversary in 2024.
"It was developed by West Australians and it's great to see one of the world's largest surfing contests still going," he said.
"We've just signed off on a 22-page COVID document which looks at everything regarding the germs and we'll keep our fingers crossed we keep germ-free in WA for a little bit longer."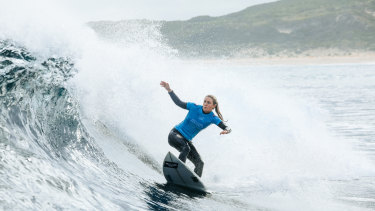 Hometown hero still hunting for a win
Professional surfer and Margaret River local Bronte Macaulay was buoyed by the continuation of the event and the opportunity to chase an elusive win at her home break.
Loading
"I grew up in Margaret River and it's probably the event that means most to me and I think all the surfers really love coming there too," she said.
"Even the whole setup there I feel they all treat us all really well, it's almost like the best contest area and then the waves are obviously really good quality.
"Winning the Margaret River Pro would be the most insane thing ever."
Macaulay finished 17th at the Maui Pro this month in Hawaii which was the season opener for the women's 2020-21 tour.
She has only ever made it the quarterfinals of the Margaret River Pro and would have to best athletes like the reigning women's event champion Lakey Peterson to lift the trophy.
Peterson said she felt the pro had become an important event on the tour over the years.
"I feel like it's the one wave that is a little bit different that everywhere else we go, especially with The Box option and North Point as well as Main Break," she said.
"Winning last year was definitely a big moment in my career in surfing.
"I feel like WA and surfing main break, it's a really kind of a tricky wave to figure out."
Last year's Margaret River champion John John Florence said WA was one of his favourite places.
"Just WA in general is such an amazing place to travel to … having the tour there is just extra special," he said.
The Margaret River Pro will be the sixth event in the world tour and run from April 16 to 26.
Stop five is Bells Beach in Victoria from April 1 to 11.
The Gold Coast will also host a tour event in May.
Peter de Kruijff is a journalist with WAtoday.