On Monday she said that each month at the Gold Coast University Hospital alone there are between 120 and 150 "code black" situations, in which a health worker calls for security because of a personal threat.
"Having a police beat there would mean that if there is an assault, the police can come over straight away. They can take the body-worn security footage from the security guard, they can take the statement from the staff member, and they can charge the person before they even leave the hospital," Ms Bates said.
"Some of these are threats with weapons like guns and knives and scissors, or they have threatened to blow up the place. They have had to lock down the hospitals because of the threats, and this happens all the time."
There is one police beat at the Princess Alexandra Hospital, near the spinal unit. Ms Bates believes this policy should now be urgently expanded as a visual deterrent.
"I have been calling for this for several years, particularly where they are co-located with university campuses [with younger students]," she said.
"As soon as possible", police beats should be located in hospitals in university cities like Townsville, the Gold Coast, Ipswich, Logan, and in the Metro North and Metro South regions.
Ms Bates dismissed the frequent excuse that placing police beats at hospitals was a "waste of police resources".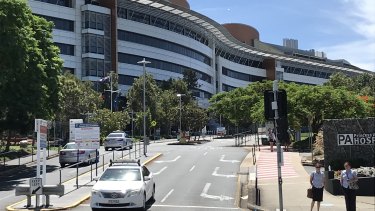 She said police had to collect blood-alcohol tests from emergency departments every night. "So that is another thing staff at a co-located police beat could do.
"But it would also serve as a powerful deterrent if police were 'just around the corner'."
Loading
Ms Bates said that on just one Saturday night, she attended 10 "code black" calls at a Robina mental health unit.
In 2014, the LNP government doubled the penalty for assaulting frontline health workers from seven years to 14, Ms Bates said.
In 2015, Ms Bates petitioned for body-worn cameras for paramedics, and for a mandatory minimum six-month jail term for assaults on paramedics.
Health Minister Yvette D'Ath did not specifically spell out how the escalating violence should be tackled, but said violence against health workers would not be tolerated.
"These dedicated workers who turn up to work each day are our sons, daughters, friends and neighbours," Ms D'Ath said.
"They're at the frontline keeping us safe from COVID, and they should be able to go about their jobs free from the threat of assault or violence."
Ms D'Ath's spokesman later said the minister had not had time to evaluate whether urgent advice should be sought from Queensland Health's Occupational Violence Taskforce.
Queensland Health did not answer how many "code black" personal security calls were made in the past12 months, nor whether there was a plan to expand police beats at hospitals.
Tony Moore is a senior reporter at the Brisbane Times