The Prime Minister commended the Australian spirit for shining brightly and people for coming together throughout the hardships of fires and the pandemic.
"If there's one overwhelming feeling we have this Christmas, I think it's one of thankfulness, a sense of gratitude. This year has not been easy for any of us," he said.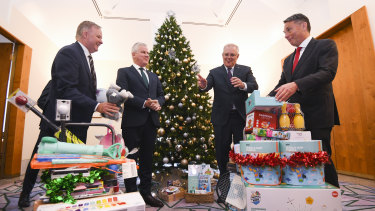 "Yet through it all, once again we have rallied to each other. So no matter where you are in Australia, this Christmas I think is one where as Australians we can once again count our blessings as a country and, in our very Australian way, resolve once again to share those blessings with others wherever we can."
Opposition Leader Anthony Albanese also reflected on how Australians had stood together and helped each other get through.
"This year, more than most years, Christmas comes not just as a joy but a relief," he said. "It's been a tough year. But Australians have risen to the challenge. Especially our essential workers: the nurses, cleaners, supermarket workers and the teachers who had to find new ways to teach."
Mr Morrison recorded a separate video message for the Australian Defence Forces, wishing them a merry Christmas and thanking them for their service overseas and domestically during the bushfires and in Operation COVID Assist.
"Your service, your choices, you life, your service embodies not only who we are but who we can be. Strong, courageous, selfless, driven by our love for family, community and, of course, country," he said.
"The respect that Australians feel for our Defence Force men and women and our veterans is earned. You've earned it through your service. That cannot be taken away from you and never should."
Mr Albanese ended his message on a lighter note, throwing out a fridge magnet calendar while saying, "May the festive season bring peace to you and your loved ones and may 2020 get in the bin".