"Both my parents have been social workers, so I've grown up hearing dinnertime conversation that was probably taboo in most families," he says. "The main character commits an act of violence in revenge, so it was looking at what drives people to do those acts of violence but I wanted to refocus the narrative away from the male perspective. What are the extremes you go to, with family or life-long friends, when they're hurt and you feel helpless? Most of us never act on those desires to seek revenge."
Set in Melbourne's outer eastern suburbs, Kerosene is a one-woman show. Nichol wanted to remove the bells and whistles of a theatre performance and concentrate on the essential elements of storytelling.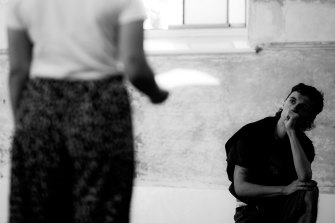 "The underlying idea is that it's no props, no costumes, no other actors, it's just Bella on stage acting: the performer, the word, the audience," says Nichol. "I'd much rather invest in really solid dramaturgy, drafting, and performance investigation. Something we've worked really hard to do is to get the audience on side, and while maybe they don't condone or support Millie's actions, because you discover her circumstances, there is that level of understanding. We don't want to push people away, we want people to be brought into the story."
Nichol and Yena knew Theatreworks were renovating the venue to meet COVID-19 compliance requirements and they developed the show to work in the more intimate space. Audience members book booths, rather than single seats; the 12 glass booths, entirely self-contained, accommodate groups of 2 to 3, 4 to 6, with a maximum audience of 48.
"One person in a space, as in this show, can tour and be performed anywhere, hopefully," Nichol says. "We'll do this season and then there's talk of a short-film development – a stripped down 15-minute version of the story – and then we'd love to do the Fringe cycle – Adelaide, Perth, Darwin."
Loading
For Nichol, Millie is a character who will provoke audiences to confront uncomfortable, unexplored emotions and 'what ifs' of their own.
"I think as a writer, and also as an actor, I'm not interested in writing roles that are boring to play," Nichol says. "When you constantly see likeable, palatable people on stage it causes our empathy to wane. I think it's important to see people who make questionable choices; it's important as a society to see people who are kind but also aggressive; a woman but also crass. These stereotypes limit how we see the people in our lives. This is a character that Bella and I really crafted to be surprising, maybe not likable but very engaging, and ultimately very real."
Kerosene runs from January 20-31 at Theatre Works