Loading
The court heard that, until her death, Rita Camilleri was the sole, full-time carer of her daughter, who suffers from multiple mental conditions including autism spectrum disorder and an intellectual disability – and who was obsessed with gory horror movies including Texas Chainsaw Massacre and Jeepers Creepers.
Ms Camilleri's sister Kristy Torrisi told the court she liked to watch movies where there was killing or dismemberment and "would pause and rewind at certain parts".
The court also heard that Ms Camilleri had a history of violent outbursts where she would grab people's hair and rip it out by the root; she would also harass strangers with "prank" phone calls in which she would threaten the person on the other end with decapitation.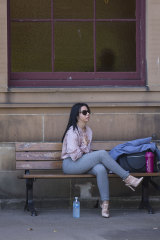 Although Ms Camilleri told police and triple zero operators that she stabbed her mother "in self-defence", she later told forensic psychiatrist David Greenberg that it was she who first attacked her mother, dragging her "all the way down into the hallway to the kitchen by the hair".
She told him she then grabbed a knife from the kitchen drawer, saying at first she only intended to threaten her mother. But there was a struggle, and Ms Camilleri admitted "I had sick thoughts" and that she "lost it".
"I remember stabbing my mum. I wouldn't stop. I injured myself. I was getting her everywhere," she told Professor Greenberg, adding that she got the idea to decapitate the 57-year-old "from the movies".
In his closing address, Crown Prosecutor Tony McCarthy said the act of decapitating her mother and removing her eyes, nose and tongue – and her explanation of why she did it – "are evidence the accused was at least at that point operating out of a morbid curiosity with death, dismemberment and decapitation."
Professor Greenberg told the court it was his opinion Ms Camilleri understood what she was doing as she killed her mother, and that it was wrong. However, he said her multiple mental illnesses would have "substantially impaired" her ability to control herself when she flew into a rage after Mrs Camilleri tried to call triple zero to have her taken to the mental health unit at Nepean Hospital.
Loading
The court heard that in the lead up to the killing, a number of stressful events had occurred that likely caused a build-up of stress in the 27-year-old, and her mother's attempt to call an ambulance eventually "triggered" an explosion of rage.
Defence barrister Nathan Steel on Monday told the jury his client "lacked a capacity to control herself due to her underlying abnormality of mind" and she "clearly has a defence of substantial impairment".
He said was said the killing was "a triggered, explosive attack which was very clearly from a complete and utter loss of control".
Jenny Noyes is a journalist at the Sydney Morning Herald.