The Sixers are two-time champions, were runners-up on two occasions, and are again among the leading fancies this season.
"[I'm] definitely excited, as I've said it's something I relish to come over and do," Holder said. "Given the opportunity here at the Sixers, a successful team at that, [there's] big shoes to fill when you have a tradition and legacy to uphold in terms of success rate in this competition."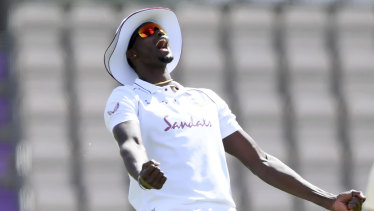 Holder was wicketless in the two Tests against New Zealand but arrives in Australia off a 61 in his previous innings.
The world's second-ranked all-rounder at Test level, Holder is not as well suited to the shortest format of the game but, as a world-class international, he should relish the drop to domestic grade.
Loading
Holder said he had not yet been told his role at the Sixers but, with 14 wickets from seven games in the Indian Premier League, he will add strike power to the attack and extra depth to their batting. He joins fellow Caribbean all-rounder Carlos Brathwaite at the Sixers.
"They're very, very flexible with their plans in terms of bowling strategies," Holder said. "I'm willing to be able to do any and everything possible to make sure my time here is successful."
Experienced on the T20 circuit, Holder has an open mind on the BBL's innovations. He may play a role in the power play overs, which are now taken in the first four overs and at the behest of the batting side in the second half of the innings.
"[It] could be difficult. I've seen it work for and against certain teams so far but, over a period of time, you know where and when, the dos and don'ts with the power surge," Holder said.
Holder's stay will be brief, limited to just the next three games. After the Strikers, the club starts its stint in the Queensland hub with matches against the Melbourne Stars and Renegades over the Christmas period.
Andrew Wu writes on cricket and AFL for The Sydney Morning Herald