Sources close to Franklin insisted he had no past or present relationship with Mr Hayson and was surprised by Mr Hayson's unannounced appearance at the dinner to see Martin.
Martin's manager, Ralph Carr, initially denied the Tigers premiership player had met Mr Hayson, describing the suggestion as "rubbish". When told the pair were filmed meeting, he said: "Who cares?"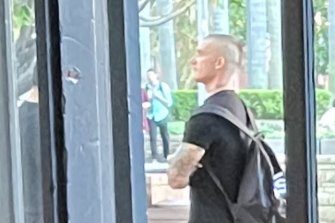 Mr Hayson has been of long-standing interest to police and sporting integrity bodies because of his overlapping networks that include criminal associates, professional punting and the elite sporting world. There is no suggestion the former brothel owner is engaged in criminal activity. He shrugged off an NRL match-fixing inquiry by organised crime investigators in 2018.
Despite there being no evidence of any wrongdoing arising from Martin's relationship with Mr Hayson, it highlights a longstanding area of concern for professional sports administrators – the potential exploitation of sports stars by figures considered to pose an integrity risk.
In 2006, Mr Hayson and fellow punter Steve Fletcher won an estimated $2 million on a betting plunge after allegedly receiving inside information that then Newcastle Knights star Andrew Johns would not be playing due to injury.
At the time, Mr Hayson owned racehorses with Johns and his brother Matthew. A subsequent investigation by the NRL found nothing amiss, and no criminal charges were laid.
NRL officials were later troubled by Mr Hayson's friendship with star league player Kieran Foran and insisted that Foran's contract with Canterbury included a clause prohibiting his association with the notorious gambler, who has been banned for life from Sydney's Star casino as well as from betting with the TAB.
In 2014, Mr Hayson lost control of his high-class brothel Stiletto and declared himself insolvent with debts of $52 million. He later admitted that he provided a host of footballers with free sex at the brothel, but he didn't expect anything in return.
"That is how I was promoting my business," Mr Hayson said. "Word of mouth is a very powerful tool."
When he was asked if he had provided free sex to footballers who played in matches he had gambled on, he declined to respond.
Loading
The dealings between Martin and Mr Hayson also highlight the fierce behind the scenes campaign to guard against such risks. The AFL has repeatedly warned clubs to advise their players to avoid associations that lead to any reputation risks, with the code's officials often citing fallen star Ben Cousins' relationship with Perth underworld identity John Kizon.
NSW sources said the sharing of intelligence by Sport Integrity Australia led detectives to review the footage of the December 4 meeting in Kings Cross. Vision captured Mr Hayson and Martin, who appeared heavily inebriated, leaving the venue together about 7.30pm.
Sport Integrity Australia was formed in June after former judge James Wood conducted an inquiry calling for better co-ordination between police, regulators and sporting codes. The agency is headed by former senior federal policeman and anti-doping agency chief executive David Sharpe.
Nick McKenzie is an investigative reporter who has twice been named Australian Journalist of the Year. A winner of ten Walkley Awards, he investigates politics, business, foreign affairs/defence, human rights issues and policing/ criminal justice.
Kate McClymont is an investigative journalist at The Sydney Morning Herald.