It was late January when the spectre of COVID-19 was first felt in Queensland.
A handful of cases had already been recorded in Sydney and Melbourne when Jeannette Young, Queensland's Chief Health Officer, mentioned almost as an afterthought during a media conference that a man was being tested for what was then known as the "novel coronavirus".
Dr Young appeared professional, as always, but there was a sense of urgency to her words that day as she outlined that a man was being tested in Brisbane for coronavirus after returning from the Chinese province of Wuhan.
While that first suspicious case was never confirmed as COVID-19, a tour group from Wuhan proved to be the state's first officially recorded cases of the virus.
They would be far from the last. In December 2020, almost a full year later, Queensland has endured lockdowns, hardships, a political tug-of-war and even, tragically, some deaths, as it recorded more than 1000 cases.
But the state is also in a surprisingly strong position heading into 2021, having effectively suppressed the virus and enabled life to restart here in a way in which it has not in many other parts of the world.
Plan for the worst
Rob Moloney was hoping for the best but planning for the worst when the pandemic struck.
"We thought it was going to be bedlam; we thought it was going to be a zombie apocalypse, to be honest," Mr Moloney said.
The nurse manager with Metro South was tasked early with organising the frontline response to the pandemic for the health region.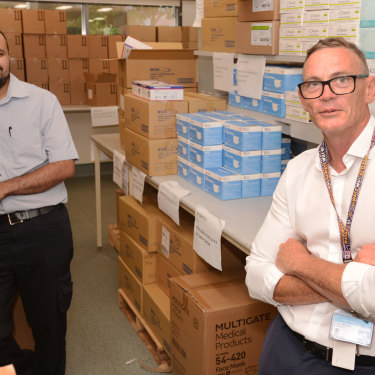 He immediately realised that maintaining supplies of PPE for health workers was going to be a major challenge, especially because, in a twist of biting irony, much of Queensland's supply came from manufacturers in Wuhan.
"We had to try to stabilise that supply and work out what we had and how fast we were going through it," Mr Moloney said.
"We ended up getting all our departments [at Brisbane's Princess Alexandra Hospital] together and figuring out how we could get them all helping each other with PPE supplies, and that model was eventually adopted across Metro South."
Mr Moloney also found himself front and centre when volunteers were needed to test cargo ship crew members suspected of having COVID-19 when they arrived in Queensland waters.
After health officials ran into trouble in rough seas trying to board the vessels off the Sunshine Coast, the ships were moved to Brisbane and Mr Moloney put his hand up to take the lead in testing the crew.
"At that point, it was high risk, there was a pretty high chance that they were carrying COVID," he said.
"We worked really well with Queensland Police, and we've done three or four cargo ship tests now, it's almost routine."
'We thought it was going to be a zombie apocalypse, to be honest.'

Rob Moloney
Queensland has seen a little over 1200 positive cases since the pandemic began, with six of those people dying from the disease.
Overall however, the state has weathered the pandemic storm surprisingly well, especially compared to worst-case scenarios like the United States, where a lack of an effective government response has seen more than 300,000 people die from COVID-19.
Mr Moloney said that from the beginning, health staff knew the worst-case scenario was a possibility unless they did all they could to prevent it.
"I don't think people in the state appreciate how lucky we are," he said. "When you look at everywhere else in the world, what we achieved is pretty remarkable really."
Coffee and sympathy
Cameron Shield is sick of talking about the pandemic.
The owner of Cafe All Sorts at Kirra, within spitting distance of the NSW border, has had a front-row seat to the ongoing stoush between Queensland and NSW over the border closures.
The introduction of a hard border with NSW has been a focal point of much of the frustration and anger directed at the Queensland government, both from outside the state and within.
For his part, Mr Shield saw his business drop by 70 per cent due to the border closures as foot traffic dried up and many of his regulars who live over the border in Tweed Heads stayed at home.
"They were still allowed in with the border passes, but it would take an hour sometimes to cross the border, so a lot of people just didn't bother," he said.
"It was a scary time, but we managed to get through it and even bounce back a little, which I wouldn't have thought possible back in May."
Mr Shield believes they're actually doing better now than they were at the same time last year, as the novelty of being able to move around means people are doing just that.
He says that for the most part, he doesn't mention the pandemic, and neither do the people who are flooding back to his business.
"People are a bit sick of talking about it, so no one really brings it up when they come into the shop," he said. "There are always better things to talk about than COVID.
"I think people are actually trying to get back into the mindset they were in before all these dramas started."
Pivot or perish
Luke Swenson insists he was never going to let 2020 get the better of him.
The founder of The Bearded Chap line of men's grooming products was faced with watching his immediate customers, mostly barber shops and boutique outlets, all close amid the pandemic restrictions.
A year earlier he'd left his role with a distillery to start the company, then soon after, a potential shutdown loomed.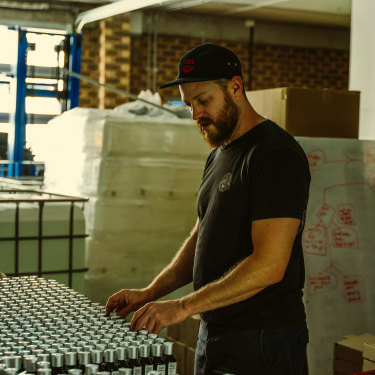 But Mr Swenson said he was determined that the business would not only survive but thrive
"I wouldn't have let it go under," he said. "I've been a salesperson all my life. When you get in trouble, a lot of companies cut costs, but I just sell more. It's worked for me so far."
Faced with an immediate supply issue for his grooming products, he realised there was a gap in the market for hand sanitiser, as a large proportion of top-grade sanitiser was made overseas.
Many companies pivoted to producing hand sanitiser and other pandemic-related products in 2020 but The Bearded Chap was one of the first, and they were rewarded for the gamble with a state government contract as well.
While so many other businesses struggled in 2020 due to the pandemic, Mr Swenson saw revenue soar to 400 per cent of what it was the previous year.
"As a result of the lockdowns, everyone stayed home and grew a beard, so when the sanitiser market got flooded, we were still selling a lot of sanitiser but we also flipped back to beard products," he said.
"We've been flat out the entire year. We actually put on staff, which is so amazing, especially when other people are doing it so tough."
Having managed to not only avoid a 2020 downturn but use the disaster as an opportunity, Mr Swenson now says he plans to go full circle by going back into distilling, producing locally made gin.
"I'm excited for the next year, although I think it's going to be another hard year economy-wise. But we're ready to go hard," he said.
Home for Christmas
Katherine Auchterlonie had not seen her parents for nearly a year when she stepped off the plane in Brisbane on December 1.
Ms Auchterlonie was one of the first people to return to the state following months of hard border closures, as cases soared in southern states, especially in Melbourne, where she had been staying during the lockdowns.
"I wasn't even supposed to be there. I had planned a big overseas trip for 2020, I was going to spend time in Fiji with some friends and then go on from there," she said.
"Instead, I ended up not being able to go anywhere."
The 29-year-old says she was "luckier than some" by getting a job with an upscale food market in the leafy suburb or Toorak, which meant she could leave the house to go to work.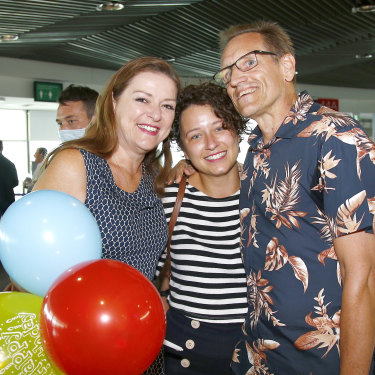 Then suddenly, after months of lockdowns, she was able to book a flight home.
"It all seemed to happen at once, it was a bit surreal," she said.
"Mum called and said flights were open, get up here, so I got on and booked."
Ms Auchterlonie was one of the first people to arrive when the borders officially opened on December 1, meeting her parents, Graham and Natalie, at Brisbane Airport.
But despite the long-awaited homecoming, she only stayed for a day – it was all the time she could get off work – but planned to be home permanently by Christmas.
'It was like the longest Groundhog Day in existence.'

Katherine Auchterlonie
All her plans for an overseas trip have been put on hold due to international travel restrictions, but once the world comes out the other side of the pandemic, Ms Auchterlonie plans to finally get out there again.
In the meantime, she says it will be good to be home – at least for a while – after a year spent marking time.
"It feels like no time has passed at all, and it feels like 10 years of my life have been lost. It was like the longest Groundhog Day in existence," she said.
"It all feels like a bit of a waste of a year, but at least it's all ending well."
Hope for the best
Gerard FitzGerald has seen all this before, and he's worried we'll see it all again.
A public health expert and former Queensland chief health officer, Professor FitzGerald is now an adjunct professor with QUT, and he has monitored the response to the virus with an expert's eye.
Despite a few early stumbles and some political disunity at all stages of the response, he said the health authorities had gotten many things right in Queensland.
"Hindsight is 20-20, but if you could change anything, you would have gone even harder perhaps on that early response – lock down the borders, make sure you're on top of it as soon as possible," Professor FitzGerald said.
"But you didn't have the knowledge at the time; everyone was doing the best they could with the information they had."
Queensland, along with the rest of Australia, is looking forward to 2021, when a vaccine will hopefully enable life to get back to something approaching normal.
One of the great disappointments of 2020 was the shelving of the vaccine candidate being developed by UQ because it was found to produce HIV antibodies, which would have had a serious impact on HIV screening programs.
Professor FitzGerald said everyone's heart went out to the research team, who worked tirelessly for almost a year on the project.
"The use of nanoparticles is the exciting future of vaccines, so their discoveries will not be wasted," he said.
Public health experts are always students of history, and Professor FitzGerald said there should have been more lessons learned from previous pandemics.
'We need to capture these lessons and make them available to future generations.'

Professor Gerard Fitzgerald
The Spanish Flu that ravaged the world just over 100 years ago was well known in scientific circles but forgotten by many in the general public, or treated as a historical event that could never happen again.
More recently, SARS, MERS and Swine Flu all gave epidemiologists sleepless nights, yet they were also considered to be overhyped, given that they didn't turn into global pandemics.
Professor FitzGerald said now that a disease has lived up to the hype, we can't forget the lessons again.
"The problem with once-in-a-century pandemics is they don't happen very often, and by the time the next one hits, the people will all be different – the people in power and the everyday people," he said.
"Somehow we need to capture these lessons and make them available to future generations."