The business had multiple concessions in Myer along with two boutique stores, and had completed numerous funding rounds since its inception, raising just over $9 million and attracting a number of high-net-worth investors.
Loading
These include Rich Listers such as property investor Robert Magid and Catch founder Gabby Leibovich as well as startup founders and tech CEOs such as Airtasker co-founder Jonathan Lui and Mad Paws chief executive Justus Hammer. Former Deloitte partner turned private wealth advisor Ian Levi also invested in Mon Purse.
They were joined by over two dozen other shareholders, many of whom also wealthy property developers or private wealth advisors. It's unknown what return, if any, they will receive from the business' liquidation.
Ms Hopkins told The Age and The Sydney Morning Herald she was saddened and "extremely disappointed" to see the collapse of her former business, noting it was a poor outcome for its employees, investors and customers.
Ms Hopkins is no longer the company's chief executive or even involved with the business, resigning from the role and Mon Purse's board in 2018. Chief operating officer Andrew Shub is now the sole director of the business.
Media reports from 2018 allege Ms Hopkins lost control of the startup and stepped down from the business following an internal stoush involving Mr Shub. However, the founder says she resigned on her own terms, citing differences in opinion with other directors over the company's direction.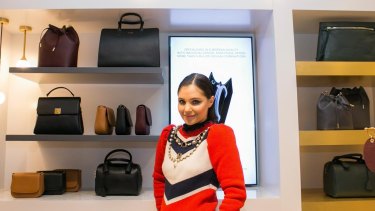 "I departed the company and resigned from the board as I had a different view from the collective regarding the strategic direction of Mon Purse," Ms Hopkins said.
Wexted Advisors administrator Andrew McCabe said the liquidator firm was appointed on December 11 and has begun seeking "urgent" expressions of interest for the business or its assets, due by Thursday.
"We are working with the company director to undertake an immediate assessment of the company's financial position while seeking expressions of interest," Mr McCabe said. The liquidators are yet to receive the company's accounts and did not know the precise cause of the collapse.
Mon Purse's website says the business is currently undergoing "scheduled maintenance", and the company's made-to-order range is unavailable due to "the current effects of COVID-19".
The Age and The Sydney Morning Herald understand the business may have lacked the capital required to continue fulfilling orders after its sales were stymied by COVID.
Comments on the company's social media accounts reveal a number of customers claim to have placed orders earlier in the year but have yet to receive them. The company last posted to its social feeds on October 14.
Ms Hopkins is now working on a new venture, also in retail, which she hopes to unveil in the new year.
Dominic Powell writes about the retail industry for the Sydney Morning Herald and The Age.