The court has heard Mr McKee burst into Mr Davis's home in the afternoon armed with knuckledusters and a pistol that fired blanks.
Loading
On Friday Ms Quinn's barrister, Tom Hughes, turned to Mr Davis in his closing address to the jury.
"You ran to defend and protect the woman you loved, and just as your [war veteran] great-grandfather had over 100 years earlier, you did not hesitate to come to the defence of something … that you, as he, held dear," he said.
"For him, King and country and a way of life. For you, the woman you loved. I, for one, see in that response bravery, gallantry, valour and courage, true and shining."
He said Mr Davis stepped between Ms Quinn and Mr McKee and "that took real courage; not movie courage, not Jackie Chan courage. You had stepped between your girlfriend and a gun."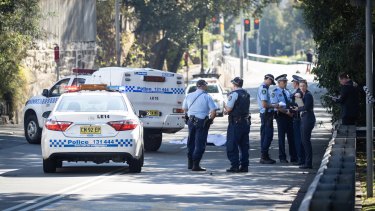 Mr Davis told the court he remembered Mr McKee holding a gun to their heads and waking up with a bloody head, believing he had been shot. He said he was told later he had been hit in the face with knuckledusters.
Mr Davis said he picked up the sword displayed near his front door and ran towards the sound of Ms Quinn screaming outside. He said he believed her life was in danger when he dealt the fatal blow.
Mr Hughes told the jury that "as she [Ms Quinn] placed her trust in me, I now put her in your hands".
Mr Davis's barrister, Margaret Cunneen, SC, told the jury the law recognised the right of a person to act in self-defence to an attack or the threat of an attack, even to the point of killing.
She said the jury must look "through Blake Davis's eyes" and "the test is whether he believed at that instant that it was necessary to do what he did in order to save Hannah", and his response was reasonable in the circumstances as he perceived them.
He did not have hindsight and could not see what other people could see, Ms Cunneen said.
Ms Cunneen submitted that even a "normal person" would have perceived the threat, and Mr Davis, whom she described as "quite short and small", had underlying anxiety and was concussed after being struck in the face.
She said this was not a "sustained attempt to finish [Mr McKee] off" but a "moderate blow" that had fatal consequences.
"Ladies and gentlemen, not every killing is a murder. There is such a thing as a lawful killing, and this is an example of it. Blake Davis fought for his life and for Hannah's life on the 10th of August 2018.
"He did what he could do for them. One quick hit. He fights for his life again in this trial, and it is in your hands. You have to be satisfied beyond reasonable doubt that it was not self-defence."
Justice Natalie Adams will provide a summing up of the law on Monday before the jury retires to consider their verdict.
Justice Adams anticipated the jury would retire before lunchtime on Monday, and said the court was able to sit until lunchtime on Christmas Eve. If the jury cannot reach a verdict by then, they will return shortly after Christmas.
Catch all the day's breaking news
At the end of each day, we'll send you the most important breaking news headlines, evening entertainment ideas and a long read to enjoy.  Sign up here.
Michaela Whitbourn is a legal affairs reporter at The Sydney Morning Herald.