Yet from struggle comes progress, and that interplay of complicating factors makes Ms Solaka and Eliana prime candidates for what Victorian Medical Research Minister Jaala Pulford dubbed on Sunday "the most globally significant study into the COVID-19 generation".
A team of Melbourne-based researchers will invite the parents of every one of the 150,000 babies expected to be born in Victoria between 2021 and 2023 to include their children in the "GenV" project, in the hope up to 100,000 newborns will be signed up. And the team got a head start by beginning to seek candidates this month. The Solakas say they are interested in the project.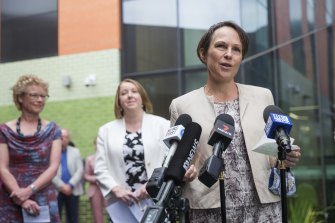 The $16 million study will create a database that monitors children (whose parents approve) from birth, allowing researchers to compare and contrast factors involved in complex health issues such as obesity, autism, asthma, food allergies and mental illness.
Researchers from the Murdoch Children's Research Institute and Melbourne University will start by taking DNA samples from children. The samples will be stored at one of the world's largest biobanking facilities, at the Royal Children's Hospital.
From there, researchers will keep in touch with families and offer them interviews once the children reach school age. If participants experience any medical conditions, they may be asked to provide more information but Professor Melissa Wake, the study's director, said it was designed to be "very low burden" for parents.
"We chose to do GenV because the way we do research at the moment is project by project. It's incredibly slow and cumbersome," said Professor Wake, from the Murdoch Children's Research Institute.
Start your day informed
Our Morning Edition newsletter is a curated guide to the most important and interesting stories, analysis and insights. Sign up here.
"What we're trying to do is really build a scaffold that has the data, has the biosamples, has the information on important questions that are important to them, to GenV, to answer."
Professor Wake gave the example of preterm birth, "one of the great riddles of our time". She said the database could compare Victorian mothers who experienced a premature birth to assess similarities between them, as well as tracking the impact of the early birth on the child over time.
She hopes the study will become a valuable resource worldwide, particularly in the context of a "COVID-19 generation", where the long-term effects of the coronavirus pandemic on parents and children may not become clear for years.
"If you think about what this year meant for women while they are pregnant, all of the changes to services while you're pregnant, and after you have your baby, have been turned on their heads," Professor Wake said.
"Some communities have come out of poverty, others have gone into poverty. Transport, everything, has changed. And depending when these things change during that early life period, they can have dramatically different effects on our life chances."
Parents will be asked to opt in and won't be paid for participating, Professor Wake said.
Hailing GenV as a "one-in-100-year" project, Ms Pulford said it would provide more insight particularly into rare medical conditions thanks to its huge scale.
"It'll also give us, I think, some extraordinary insights into mental health and behavioural and developmental issues as well," she said.
Michael is a state political reporter for The Age.