Yeoman-Dale, 26, hasn't played for Australia since 2017. She hasn't played for the Western Sydney Wanderers since the 2018-19 season, during which she suffered an ankle knock that she initially played and trained through, but worsened over time.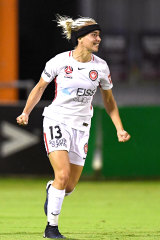 It was eventually diagnosed as a bone lesion, akin to a stress fracture, and it ultimately kept her sidelined for 18 long, frustrating months, and ruled her out of contention for the last Women's World Cup in France.
"I did have a sports doc say he wasn't sure if I was able to play again, which is always tough to hear as an athlete," she said. "It took me a few weeks to get my head around it. I actually took a step back from rehab to get my head right and make sure that it was still what I wanted to do, because I knew it was a massive feat to be able to get back and a lot of hard work."
It certainly wasn't easy, but she did. Yeoman-Dale got fit enough in time to play the full NSW NPL season this year for APIA Leichhardt, and hasn't missed a training session for the Wanderers as she prepares for her W-League comeback.
Pulling on the green and gold again, she said, is "always an aspiration", and she's still plenty young enough to realise it.
"That's always going to be a goal – especially with the World Cup being here in a few years," she said.
"But for this season, the aim is to get through the season fit. My injury has taught me you've just got to take it one day, one game at a time. But that's always in the back of your mind – maybe I can get there."
For Brush, 32, the goal is much more immediate: Tokyo or bust. The defender was contemplating retirement at the end of last season, but the postponement of the Olympic Games to 2021 was like a "message from the universe" that convinced her to play on for one more year.
Capped just twice for the Matildas, Brush has juggled her Sydney FC commitments with a secondary career in the AFLW with the Giants for the last few years – but with a new national coach, Tony Gustavsson, ready to impress, she is now focusing solely on her first love.
She knows it's the longest of long shots: only 18 players can go to the Olympics, and there are almost that many stars who'll pick themselves.
Loading
"But I thought, why not give it another crack?" Brush said.
"Another shot at what has been a huge dream of mine, since being a little kid – watching the Matildas at the Sydney 2000 Olympics, being a ball girl in my hometown of Canberra, idolising those players back then.
"I probably would have regretted it forever if I hadn't, so that's what I'll be doing. It's a smokey. But any little chance is more than nothing."
Vince is a sports reporter for The Sydney Morning Herald.