Two activists then occupied swings hung in the sprawling fig trees at the intersection with Creek Street, while at least another two were dragged into police vans.
After police threatened to arrest anyone who set foot on the road, the protesters stopped briefly for food and speeches outside the Victory Hotel on Edward Street.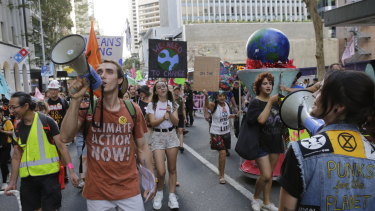 As the group moved up Charlotte Street to their end point at Queens Gardens, even a TV cameraman was threatened with arrest for manoeuvring across a heavily cordoned-off intersection.
Spokesperson Rilka Laycock-Walsh earlier said disruptive civil disobedience was the only way to "force unwilling governments to accept and address the threat" of climate change.
"As Australia's political and economic leadership ramp up their efforts to protect polluters and deliberately block urgently needed climate action, we will stand in their way and disrupt their operations until they cannot ignore this crisis," Ms Laycock-Walsh said.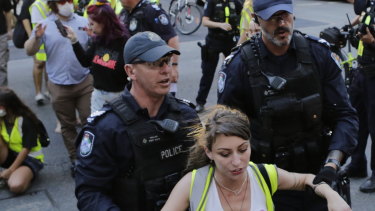 "We need a binding citizens' assembly to be given the authority to develop a climate emergency action plan to get Australia to net-zero emissions by 2025 – independent of the influence by clearly biased politicians."
While Queensland planned to reach that point by 2050 – with net-zero targets set in a number of other states – it was a far cry from the federal government's Paris accord target of 26-28 per cent by 2030.
On Saturday, Prime Minister Scott Morrison is expected to announce Australia will abandon a longstanding plan to use leftover credits from the earlier Kyoto agreement target to meet the 26-28 per cent goal, which essentially halves the nation's commitment.
Loading
Thursday's action came after two activists caused hours of disruption on Monday morning, when they blocked a CBD intersection with a truck before climbing on top with a lock-on device and refusing to come down.
Queensland Fire and Rescue Service personnel eventually pulled them down with a cherry-picker and harnesses about 9.15am.
Lord mayor Adrian Schrinner called to "lock them up". The pair were handed a number of public order charges and have remained in custody since, claiming they could not agree to bail conditions that would prevent them from participating in Thursday's protest.
Extinction Rebellion carried out a week of protest action throughout the city in October last year.
Along with the CBD disruption, the Transport Department's QLD Traffic warned of delays on Thursday caused by a four-car crash outbound on the Inner City Bypass before the RNA Showground tunnel.
Matt Dennien is a reporter with Brisbane Times.