His daughter's wellbeing was a big factor in their decision to come home – along with a new job opportunity for Mr Rogers with Sydney's City Recital Hall as venues in Australia begin to open up.
The family booked their "insanely expensive" flights with the knowledge they'd end up in quarantine for Christmas, because earlier flights were even more expensive and Mr Rogers was worried about what would happen if they left it any later to return.
Afraid to take an internal flight, their final week in the US was a 49-hour dash across 6000 kilometres of road, sometimes through snow and ice, arriving at Los Angeles to find the airport heaving and passengers – including one American on the flight to Sydney – still refusing to mask up.
After observing the US response to the pandemic "in horror", Mr Rogers is just relieved to be back in Australia, especially after seeing how the community has dealt with the outbreak on the northern beaches.
"Watching 60,000 people volunteering to go and get tested … that collective will in Australia versus the rugged individualism in the United States, I think it really kind of shows it's just a different way of approaching life here."
Mr Rogers and his family are among about 4500 Australians who've spent Christmas in police-managed hotel quarantine across Sydney. Hundreds more are in NSW Health-managed hotels where, despite the efforts of doctors and nurses, the virus has an easier job of dulling Christmas cheer.
Tom McNamara, 31, was on his 20th day isolated in a health hotel in Mascot on Christmas Day, waiting to find out if he will get out before the New Year.
The construction project manager tested positive for COVID-19 in London on November 6, a month before flying home to Australia with his fiancee. He never had any symptoms. On arrival, he volunteered that information and was sent to a health hotel, where he tested negative three times.
But on the morning he was due to be discharged, a nurse "came running into my room in full PPE".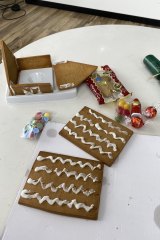 He learned that he'd returned a positive result and must remain in quarantine another 14 days – despite further negative swabs and serology testing supporting his case that the positive test picked up old virus. Unless his case is reviewed, he's not due out until January 1 at the earliest.
Mr McNamara, whose fiancee was discharged last week, has spent Christmas writing emails, trying to get in touch with doctors to find out when he can get out. A friend drop off a ukulele and had a Christmas morning visit from his nieces and nephews who waved to him from outside.
He has nothing but praise for the doctors, nurses and the accommodation itself, which he joked has a "great view out over the airport and Westconnex, so that's lovely".
In a statement, NSW Health said it is providing increased psychological support, as well as hampers, a festive meal, some decorations and gifts for children.
But being stuck there so long, and over Christmas, "definitely led to some anxiety, feelings of isolation" Mr McNamara said. "It's not a great scenario."
Jenny Noyes is a journalist at the Sydney Morning Herald.