Mr de Beaux had never met Ms Hales before he broke into her Munster home on December 28
2018, believing he was receiving a sign from God when the wind changed as he reached the house.
Once inside, he took a large knife from the kitchen and confronted Ms Hales in her bedroom. She was on the phone, calling her flatmate for help. Sadly, they were powerless to save her. Mr de Beaux stabbed her 58 times. He has admitted to the killing.
Mr de Beaux's state of mind has been the focus during the trial. The court has been told he was a chronic paranoid schizophrenic, who had left Graylands Hospital a day or two earlier. It will be up to Justice Bruno Fiannaca to decide whether he was insane at the time of the killing.
But little has been said about Ms Hales, the young woman whose life was tragically cut short.
"Cara was a loving, caring vibrant young lady with a huge laugh and smile that could fill a room," her mother said.
"She was and still is a dearly loved member of her huge and close-knit family and friends. Cara was not just a sister to her siblings but a friend and confidant. She talked every single day to her sisters and brother."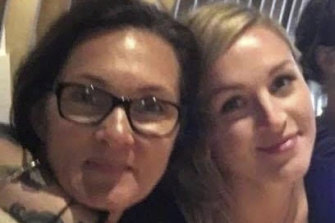 Ms Hales was 30 years old when she died. She had only been living at the house on Henderson
Road for a month, telling her mother that she felt safe there, and the bush setting reminded her of her childhood growing up in Gelorup.
The outgoing young woman was studying nursing and dreamed of becoming a midwife. She had a
natural affinity with children, and working with children meant she could wear purple scrubs –
her favourite colour.
"Cara should be continuing her life achieving her dreams and kicking those goals that she had set for herself," Ms Campbell said.
"I adored Cara and she adored me and we both knew this and constantly told each other. I still expect her to pull up in the driveway and walk in the back door and call out for me, and will never forget her last hug and kiss."
Her killer had previously been treated for drug-induced psychosis.
Loading
Psychiatrist Adam Brett told the court Mr de Beaux may have been misdiagnosed, pointing towards his erratic
behaviour in the lead up to the killing as evidence of the deterioration of his mental state.
Initially, Mr de Beaux told police he had no memory of the killing, but he told the court this week he was
hearing voices and believed he was controlled by God, who he thought was sending him messages
through the television and in song lyrics.
The trial is scheduled to recommence next February. Mr de Beaux will continue giving evidence, and is expected to shed more light on the circumstances that led to the tragic death of Ms Hales; a death her family believe could have been prevented.