The court heard Cronin was under the influence of illicit drugs when he approached and attacked the 68-year-old grandfather who was bringing in his neighbours' wheelie bin at the time.
During the drug-induced attack, Cronin bit a large part of Mr Willison's ear off and choked him to the point where the victim believed he was about to die.
"The attack was sustained and continued while the victim was on the ground in an entirely helpless position," the judgement read.
"It resulted in serious and likely permanent psychological injury to the victim. As a result of the attack, the victim suffered serious injuries, including a disfigurement.
"His ear was partly amputated, and he also suffered knee abrasions, facial abrasions, facial bruising and swelling to the neck. One of his eyes was swollen shut."
Mr Willison's wife Margaret said in a social media post that her husband was still suffering the after effects including post traumatic stress disorder and continued to need counselling.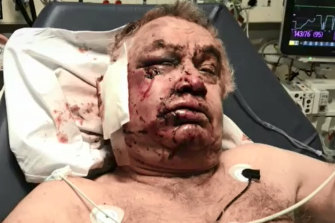 Mrs Willison said the new sentencing was "some justice" and although she thought the new penalty was light, they could live with it.
"There is some justice if you push hard for it," she wrote. "The original sentence was two years eight months plus another four months for assaulting a police officer. This was manifestly unjust and we put in a letter of concern to the DPP who agreed with us.
"I still think this is a light sentence but can live with it as my husband is still suffering the after effects including PTSD and continues to get counselling."