Loading
"They look like vertical underwater vineyards," Mr Gordon said. "The reason we're allowed to grow shellfish because there's no feed inputs for the mussels."
Overfishing has reduced wild fish stocks and the ever-increasing global population and demand for protein is expected to increased demand for farmed seafood.
The Food and Agriculture Organisation of the United Nations forecast this year that aquaculture would continue its steady growth to increase production by 32 per cent in the next decade.
Mr Gordon is hoping to expand the Australian market with a fresh offering into major consumer markets.
He said until now Australia's mussel farms have been located near Melbourne and in South Australia or Tasmania, which creates a day or two of transport time into NSW and Queensland and lopping a big chunk off the six-day shelf life of live vacuum packed shellfish.
"We can grow a mussel, harvest every weekday and have it delivered into Sydney, Melbourne and Brisbane which is unique and means the issue of shelf life is not an issue," Mr Gordon said.
"About 70 per cent of Australia's seafood, whether we like it or not, is sold through the major retailers: the supermarkets.
"Supermarkets have to sell it with two days shelf life still on the product, so almost immediately they have to put a discount sticker on it and their sales are terrible as a result."
Baby mussels, or spat, are farmed in Eden on the far south coast of NSW and seeded onto ropes on the leases in Jervis Bay. The company kicked off its harvest this year with a 8 tonne haul, which will increase to 50 million tonnes a week within a few years.
Australian Marine Conservation Society sustainable seafood program manager Adrian Meder said mussel and shellfish farming has "some great benefits".
"They often take advantage of nutrients that run off the land and can potentially alleviate some negative impacts like algal blooms that can cause fish kills," Mr Meder said. "We consider them one of the lowest impact foods for seafood lovers."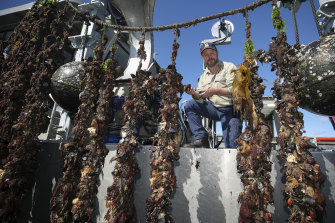 "Shellfish farming is dependent on water quality. The industry can get shut down if sewerage or something else runs into the sea, so the farmers tend to be really good stewards and reduce pollution into the environment which is their lifeblood."
South Coast Mariculture's $1.5 million harvest vessel uses biodegradable oil to power hydraulics and jet engines, instead of propellers, to avoid injuries to marine mammals like dolphins that are attracted to moving boats.
The company is considering expanding the production business into ecotourism.
Operations manager Hika Rountree said dolphins are attracted to the baitfish which congregate around mussel leases, and a tour boat experience could be combined with underwater cameras or even a submarine viewing platform.
"Under the water mussels are different animals. Once they are out of the water they shut their mouths, but underneath they are feeding and there's lots of life around them," Mr Rountree said.
Mike is the climate and energy correspondent for The Age and The Sydney Morning Herald.
Most Viewed in Environment
Loading