The bill that Congress passed last week must be signed into law by midnight Monday (Tuesday AEDT) to prevent many federal agencies from significantly scaling back their operations. After Congress passed the bill, Trump posted a video on Twitter announcing his objections to it, saying that stimulus benefits were too small and that foreign aid was too excessive.
Since he posted the video last week, White House aides have not offered public briefings on Trump's strategy or plans. Instead, Trump has issued a series of tweets reiterating his demand for changes but not saying much more. Vice President Mike Pence is in Vail, Colorado and has also been out of sight in recent days.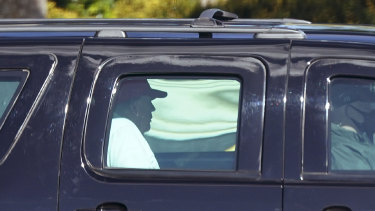 The consequences of inaction are immense.
Starting Tuesday, hundreds of thousands of federal employees would have been sent home without pay. And even the many federal employees who continue to work because they are deemed "essential," such as members of the military, will not be paid until a new funding bill is authorised.
In addition to a government shutdown, eviction protections for millions of Americans would lapse later this week, more than 14 million people could lose access to unemployment benefits and no stimulus checks would be issued. Without the bill becoming law, no new money would go toward vaccine distribution, schools, small-business aid or the ailing airline industry.
Loading
"I understand he wants to be remembered for advocating for big checks, but the danger is he'll be remembered for chaos and misery and erratic behaviour if he allows this to expire," Republican Senator Pat Toomey said on Fox News Sunday. "So I think the best thing to do, as I said, sign this and then make the case for subsequent legislation."
"You don't get everything you want, even if you are the President of the United States," he said.
When Trump released the video last Tuesday demanding the larger stimulus payments, House Democrats tried to move quickly to approve the measure, but they were blocked by House Republicans on Christmas Eve.
Trump stunned the nation when he criticised the stimulus legislation previously backed by his own administration as a "disgrace" and called on Congress to significantly amend it. Congress has not met Trump's demands, and there are no negotiations that could realistically amend the bill for it to be quickly reapproved. Five days after Trump's video, Congress and the nation are waiting for the President to clarify his intentions about the emergency relief package.
One person who interacted with Trump in Palm Beach, Florida, in recent days said the President had not discussed the economic relief bill or the looming government funding deadline. Instead, Trump has been far more focused on his failed effort to reverse the election result, lashing out at Republicans in Congress and members of his own administration for not joining him in the fight.
Trump discussed the issue while playing golf in Florida with Republican Senator Lindsey Graham and issued several tweets calling for $2,000 stimulus payments instead of the $600 payments pushed by his own treasury secretary.
With Trump and Pence ensconced in resort towns, the incoming Biden administration seized on the void to say the Trump administration was exhibiting rudderless leadership.
On Saturday, Biden accused Trump of an "abdication of responsibility" that would lead to "devastating consequences".
The Washington Post