The Victorian maverick and batting great had been given a lap of honour at the 'G in October following his untimely death in September. But that visit to the colosseum was sombre and dark – the antithesis of everything for which Deano stood. It was during a time in which Victoria remained locked down.
This was a much cheerier occasion: the type of bright, sunny day at the 'G at which Deano was king.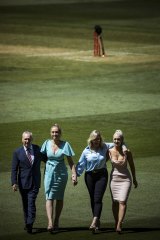 His visage was present all day, placed over a bay of seats in the Ponsford Stand. The Aussie players' bottom lips were adorned with his trademark zinc when they lined up for the national anthem. Highlights of his swashbuckling strokeplay were showed at lunch. Then came the tea break tribute at 3:24pm – a number with dual significance, both his highest first-class score and his Test cap number. Once his nearest and dearest had placed the items in the middle, 12th men James Pattinson and KL Rahul retrieved the gear, putting it on a seat inside the ground.
And while Deano had died still squabbling with Cricket Victoria, the organisation announced on Saturday that his name would be reinstated to the state's one-day player of the year, an award from which Jones requested his name be removed. The move to bring back the Jones designation came following discussions with his family. Life really is too short for such spats.
In some respects it was still business as usual. As ever, umpiring controversies got tongues wagging. Joe Burns made a duck, just as he did on this day 12 months ago. But on the flip side, Steve Smith was also sent packing without scoring, the first time he'd been removed for nought in a Test in more than four years.
That fans were spread evenly around the ground meant there were no particularly barren patches of seats, arguably lessening the aesthetic impact of the COVID restrictions. It also meant that a Mexican wave could still be comfortably conducted and that as a rite of passage, the MCC members were booed whether they chose to raise their arms or not.
Loading
But the signs of the times remained – there were QR codes aplenty, rows were cordoned off, and fans were much more limited in their access between sections of the ground, doubtless doused in ubiquitous hand sanitiser and forced to eat and drink only in their seats.
Still, having hosted AFL matches this year with zero fans, and then sat dormant as the finals were shifted to Queensland, Boxing Day at the 'G was 30 per cent full rather than 70 per cent empty.