The first thing that needs to be said is that the India result was a freak happening. The perpetrators said so. Pat Cummins said Australia kept expecting that there would be a partnership. He also noted that there were few play-and-misses. Everything was edged, and the edges all carried to the wicketkeeper as they did not in the first innings.
Josh Hazlewood agreed. "Everything got nicked, and everything went to hand," he said. "It was one of those days. It happened so quickly, it was over before we knew it."
The next thing is to acknowledge is that day-night cricket is different. The pink ball is different – but not alien. Technology is improving it all the time. Early complaints about its visibility are receding.
In the Adelaide Oval media box, the ball used on the last day of the Australia A-India match in Sydney the previous week was doing the rounds. It was 70 overs old, but looked good for another 50.
The pink ball does behave differently to the red, even in daylight. Hazlewood said so. But different behaviour is not axiomatically misbehaviour, unless you're a batsman. It just means it plays differently.
The pitch often has more grass. This one did. But it was a straw-like Adelaide Oval thatch, not a Gabba fire-breathing greentop of old. On it, the Australian seamers were encouraged to pitch the ball further up, and straighter, with fields set accordingly. You saw the rest. We were left to thrill to the exquisite skill of three fast bowlers rather than shiver at their sheer menace. That can't be a bad thing.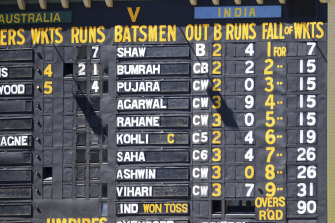 A characteristic of day-night cricket, noted Cummins, was that things happened quickly, day or night. India made 36 here, England 58 in a day-night Test in Auckland two years ago, both in broad daylight.
But David Warner made 355 not out against Pakistan last year, batting day and night, day and night, and even Yasir Shah made a century. Four years ago, Pakistan almost chased down 490 in the last innings of a day-nighter at the Gabba. Day-night cricket exaggerates the game in all its dimensions.
A Test match is governed by a set of variables. Some are controllable – the pitch, for instance, and one's own form – and some – like the weather – not. The pink ball adds another. Timing is everything. Australia were in control against England three years ago until a chain of events, not all of them foreseeable, exposed their top order to Anderson under blazing floodlights, and he upended the contest.
Test match cricket always has been all about the variables and coping with them. Short-form cricket is dedicated to homogeneity. You can try to micromanage the many settings in Test cricket, but it would be like cutting the legs of a wonky table to stabilise it. And then it might rain anyway.
Day-night matches are shorter. In Australia, on average, they last three-and-a-half days. Since everyone now thinks that four days is enough for a Test match, three-and-a-half seems about right. Except perhaps for Seven, who still are coming to grips with the idea that they have bought a sport, with all its unknowns, not commissioned another reality show.
Australia have won all eight day-night matches they have played, all at home. But as a rule, all teams fare better at home, because it's home. Wherever day-night Tests have been played, the home team has won. In fact, in every day-night Test played, the home team has won.
So I'd suggest that instead of shying away from day-night cricket Tests in Australia, England schedules one against Australia at home in 2023.
Greg Baum is chief sports columnist and associate editor with The Age.