"Moey [Henriques] has been texting me every now and then saying 'well-done skipper'," he said. "I've been calling him the former skipper."
Hughes said he felt a responsibility as a leader to be the one to chase down the total.
"I did sort of feel that … I thought if I can be here at the end, you never know what might happen," he said. "I thought I've got to be the one here to stay in and try and get us home."
Melbourne were cruising to an easy victory after Maxwell and Nicholas Pooran combined to smash 125 runs to push the Stars to 5-193 after their 20 overs. West Indian import Pooran was on his BBL debut and managed 65 runs off just 26 balls.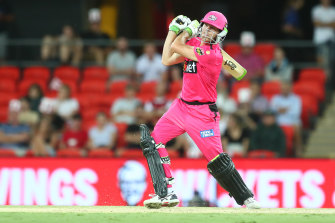 But a calf strain to paceman Nathan Coulter-Nile saw Maxwell bowl the critical final over. The Stars later argued that the game would have ended differently had Coulter-Nile been fit to bowl.
Hughes begged to differ. "I had absolutely no idea that he [Coulter-Nile] wasn't on the field," he said. "I didn't know what had happened, I had no idea he was injured. I was just trying to do what I did, to be honest."
Hughes said he also had "no idea" beforehand if he was capable of saving the day.
"It turns out I do," he said. "It would have to be one of my better innings in the BBL.
"I felt like I was in the zone and hitting the ball really well, so I thought why not just back myself."
Loading
The Sixers will face the Melbourne Renegades on Tuesday with Hughes describing the match-up as a "danger game".
On Saturday night, the Renegades were throttled by the Thunder, whose 129-run run was their greatest BBL total.
The last time the Renegades came up against the Sixers, the Sydney side managed to claim the highest-margin win in BBL history.
"They've got some seriously good players in their team; they've got [Aaron] Finch and Shaun Marsh and I think those two aren't far away from big scores," Hughes said. "They'll be looking to bounce back."
Sarah is a journalist for The Sydney Morning Herald.