"It is an opportunity for council to pilot a program that would have resulted in benefits to the local area through improved cycling and outdoor space for people," he said.
The council's initial proposal to provide more space for cyclists and reduce the speed limit in Manly prompted more than 500 comments, with concerns raised about emergency vehicle access, safety, increased congestion and loss of parking.
The council also halted plans for a walking and cycling-friendly link along The Serpentine in Bilgola following concerns about the 10 km/h speed limit, access and cyclists mixing with residents' vehicles.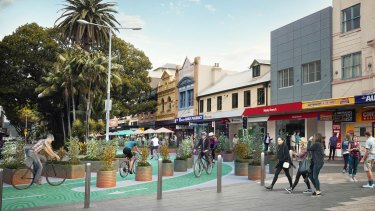 The council received $875,000 from the NSW government for road changes in Manly and Bilgola under the Streets as Shared Spaces program, which has funded 48 projects across the state.
Planning Minister Rob Stokes said the COVID-19 crisis had exposed the importance of public spaces.
"We want people to get out of their homes and into their local neighbourhoods and retail centres to enjoy local goods and services," he said.
The council's deputy mayor Candy Bingham said cars were already blocked from a number of streets in the beachside suburb, "so on any given day, particularly in summer, there are traffic queues anyway getting in and out of Manly".
Cr Bingham said the amended proposal was a "good compromise" that extended space for outdoor dining while keeping roads open.
The Manly Business Chamber said it was "excited" about the project and was working with the council and local businesses to ensure its success.
However, Bicycle NSW spokeswoman Bastien Wallace said the advocacy group was "deeply disappointed" by the council's failure to create a new bike path and reduce the speed limit.
Ms Wallace said bike riders in the Northern Beaches struggle to access safe places to cycle on car-dominated roads.
"The tendency by council to re-mark footpaths as 'shared paths' without widening or other improvements fails to meet the needs of bike riders or pedestrians," she said. "Street furniture, bus stops and other obstacles create pinch points, and crossing side streets presents a danger to both groups."
The City of Sydney revealed plans last month for a two-way cycleway in the centre of Oxford Street in Darlinghurst to link existing bike lanes.
But blocking traffic to expand cycleways in suburbs such as Paddington has provoked opposition from some residents and business owners concerned about the loss of parking spaces.
Street closures in Dee Why to counter the COVID-19 economic slump have triggered concern among local businesses, said Northern Beaches councillor Vincent de Luca.
Loading
"Unfortunately, numerous businesses have complained to me it adversely affected them greatly as no one could park," he said. "It was further exacerbated because it was raining and people couldn't even be dropped off at restaurants so they just abandoned their bookings."
Randwick Council also encountered opposition to plans to block traffic from part of Coogee Bay Road.
Ms Wallace questioned the claim that the loss of car parking would damage trade: "Pedestrians and bike riders are far more likely to see, stop and shop at local stores, whilst people in cars tend to head to malls and supermarkets."
Have a Good Weekend all week
We deliver the best of Good Weekend to your inbox so it's there when you're ready to read. Sign up here. Sent every Saturday.
Andrew Taylor is a Senior Reporter for The Sydney Morning Herald.