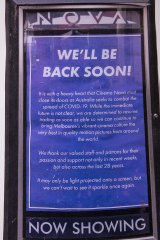 Future generations will be able to study, and wonder at, supermarket notices directing us to buy just one packet of toilet rolls; a mustard-coloured, hand-knitted woollen face mask; and photos of cordoned-off playgrounds.
Museums Victoria head of society and technology Michelle Stevenson said her organisation's project, Collecting the Curve, had acquired more than 650 items and 20 staff had worked on it.
Museums Victoria staff received an artist's permission to acquire the actual Checkpoint Barkly sign that in early July the anonymous artist cheekily attached to a pole in Barkly Street, West Footscray.
The sign was a wry, Cold War-influenced comment on the state government declaring some suburbs no-go zones due to high COVID-19 case numbers, thereby cutting people off from friends and supermarkets.
Another item collected is a quilt made by Sylvia Grollman, of Patterson Lakes, who appliqued images of lockdown Melbourne onto squares, including the face of Premier Daniel Andrews, the logo of his The North Face jacket, and 2020's greeting, the elbow bump.
Staff of Yarra Ranges Regional Museum in Lilydale have scoured the area to collect more than 1300 items including hand sanitiser made at Yering Station winery and face masks made by residents of the Tudor Village retirement home.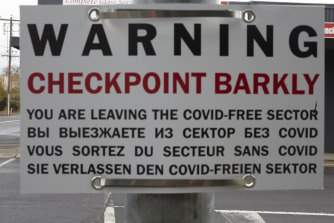 State Library of Victoria collections manager Toni Burton said the library had acquired more than 3000 items including 1500 images.
Objects include a vintage flour bag that Brunswick woman Janette McInnes embroidered, while isolating at home, with COVID-19 related terms such as social distancing, wash your hands, and social isolation.
Ms Burton said the item represented how people took up crafts to pass the time, and use of the flour bag was apt, given the pandemic craze for making bread.
Among other State Library acquisitions are conspiracy pamphlets put in letter boxes, which claimed that COVID-19 wasn't real.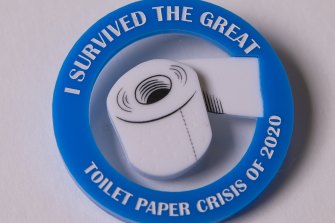 Ms Burton said the collecting was important.
"It's documenting so that future researchers, writers and students can find out from primary sources what actually happened, and how it was to live at that period of time – and not just from official books and official history."
Carolyn Webb is a reporter for The Age.