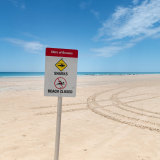 Initially he thought it may have been his friend since it seemed unlikely to be a shark in those parts, but the pair, along with a fellow bodyboarder, came to shore after hearing reports of a fin being sighted.
On closer inspection of his surfboard, they discovered puncture marks in the underside and fin.
The board is now being sent to Perth for testing.
The close encounter comes two weeks after Broome local Charles Cernobori, 59, was fatally mauled by a suspected bull shark while bodyboarding at the same popular beach.
It was the first fatal shark attack in 27 years for the region.
Loading
WA Police Broome officer in charge Les Andrews said Wednesday's attack happened about 50 metres offshore in front of the Surf Life Saving Club.
"The beach is closed to swimming and the first indications from Fisheries based on the bite marks is that the shark is around 1.5 metres long," he said.
Fisheries and WA Police have been patrolling the beach. Surf Life Saving WA tweeted about the incident at 7.23am.