Detective Acting Inspector Rod Watts said the baby was seen alive and healthy in CCTV footage with her parents at Buranda Village shopping centre the day before she died.
"The medical evidence is one part of the investigation but certainly the investigations that we've done through our police methodologies have led us to believe this is not a natural death," he said.
"Someone knows something, between 5pm on November 15 and 8am on November 16 something has happened to that child which is suspicious … the child was happy and healthy one afternoon and the next morning the child was at home deceased."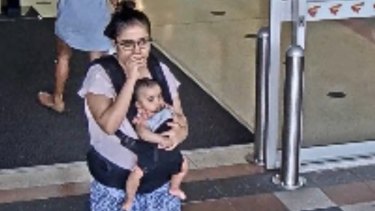 Acting Inspector Watts said the parents were a young couple and the girl was their first and only baby. The family was not known to police or child safety officers prior to the girl's death.
Both parents were at home in their Annerley unit on the morning of November 16 when the girl was found unconscious and a post-mortem showed no visible signs of injury.
Morningside child protection detectives and specialist child trauma investigators have appealed for public information to piece together the events leading up to the girl's death.
They are asking for anyone who saw the baby with her parents at Buranda Village on November 15 or anyone who saw or heard anything at the King Street unit on November 15-16 to come forward.
Anyone with information should contact Crime Stoppers on 1800 333 000 or Policelink on 13 14 44 and quote the following reference number – QP2002375171.