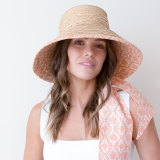 Why now? Bucket hats never really go out of style but thanks to a makeover (and Gucci) they've gone from being utilitarian to cute. They also tap into our thirst for nostalgia – other than a snap-release Kappa tracksuit, what says '90s' hypebeast more than a black nylon Prada bucket hat? Global fashion search platform Lyst also reports that searches for Kangol bucket hats surged alongside interest in the TV series Emily in Paris, which is proof that even debatable style can give trends a healthy boost.
The trend leaders: If Kangol made the bucket hat the height of streetwear cred in the '90s, then Australian brand Lack of Colour epitomises the slightly faded, relaxed vibe of the 2020 variety – like an Instagram filter for your head. Founded in 2011 by Tess Corvaia and Robert Tilbury, the brand has a celebrity following that includes Rosie Huntington-Whiteley, Vanessa Hudgens, Gigi Hadid and Chiara Ferragni.
Who is wearing it? Billie Eilish, Bella Hadid and Beyonce are all fans, and they were spotted on the runway (before COVID-19) at Kate Spade. While Rihanna incorporated a snakeskin bucket hat into her red carpet ensemble at a Fenty Beauty promotional appearance in Sydney two years ago.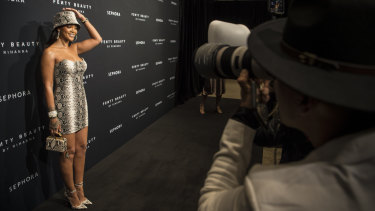 Do I need it? If your first thought is, "I can't wear that," chances are you're not doing it right, says milliner Felicity Northeast. With any hat, "you're aiming to get your face to look oval – an 'oval' can wear any shape whatsoever. But most of us don't have that," she says. If your face is round, a higher crown (that is, the top of the hat) can give the illusion of more length, while heart-shape faces look best with a fitted "dome" and smaller brim. Don't be afraid to "flip the brim": "If you have a square face, you have to get away from making anything look squarer," says Northeast. Wearing glasses will also change how different hats look, so try them both ways.
Shortcut: making hats work for your face shape
Oblong: Wider brims, shorter crowns, brims that flip up. Best styles: berets, floppy brims.
Square: Rounder shapes, and asymmetrical or slanted brims. Best styles: Berets, caps.
Round: Taller crowns, asymmetrical shapes (and trims, such as ribbons). Best styles: fedoras and baker boy caps. 
Oval: The universal face shape, you lucky thing. Ensure larger hats don't "wear you" if you are petite.
Heart: Smaller brims, worn on a slant. Best styles: cloches and pillboxes, buckets with a "neat" crown. 
Loading
Where do I get it? There's literally a buckie for every budget. Damn Gina's ($54) caught our attention as it's lined with silk and won't result in "hat hair". For fun prints, cool-girl Scandi brand Ganni ($125 approx) has you covered. For something impossibly chic, Erdem ($515, matchesfashion.com) has a bucket hat and face mask set in a vintage-look floral. Lastly, if you're taking your hat on holidays, Northeast suggests packing it in your case by stuffing the crown with socks to hold its shape, and gently placing other things around it. Better still, wear it on the plane, or have it in the car for any pit stops. If it gets squashed, Northeast says a quick iron on a dry setting can fix most dents and dings.
Is there a trend you're not sure if you need? Email melissa.singer@smh.com.au.