Loading
Surging iron ore prices were one of the key factors in the better-than-expected federal budget mid-year update last week which forecast this year's deficit to reach $197.7 billion rather than the $213.7 billion predicted in October.
But the forecasts show the budget and exports are increasingly reliant on this surge.
Overall resource and energy exports were upgraded by $22.3 billion on the September predictions to $278.7 billion, a drop of $11.9 billion on 2019-20. The upward revision in iron ore exports offset an expected $3.7 billion drop in other areas such as metallurgical coal and gold.
Thermal coal exports are tipped to edge down to $15 billion this year, but the Industry Department said there was increasing doubt over the nation's exports to China which has effectively stopped taking Australian coal.
Forecast exports have been revised down by 9 million tonnes due to China's restrictions over the past three months suffering their biggest fall on record. A "significant proportion" of Australian thermal coal production was loss-making during the December quarter.
"China imported half as much Australian thermal coal in the September quarter 2020 as in the same period last year. In the months of September and October, Australia's exports to China were the lowest in almost a decade," it said.
While forecasting a fall this year in thermal coal exports, the department believes they will jump next financial year by 23 million tonnes.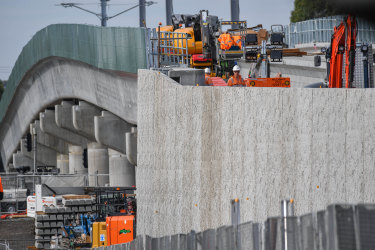 As iron ore miners sail through the pandemic, it is a different story for manufacturing.
Loading
The Australian Industry Group, in a survey of its members, found 84 per cent through November were still reporting negative impacts from the pandemic. Forty-three per cent reported reduced consumer demand while 7 per cent said there had been a fall in productivity.
About 80 per cent of firms said they would continue with some of the changes brought in since the pandemic, including social distancing, increased spending on marketing, more cleaning and less travel.
Almost one in 10 will continue with work from home plans for staff.
Group chief executive Innes Willox said the next couple of months would be critical to boost household confidence which could then translate into stronger employment and investment.
"The notion that COVID and its impacts will magically disappear when the calendar clicks over to 2021 is a fallacy," he said
"We are going to have to work harder than ever on rebuilding and regenerating our economy at a time of continued intense domestic pressure and increased global uncertainty and volatility."
The survey found 22 per cent of firms plan to invest over coming months with a third of those doing so because they were making modifications due to the pandemic.
Of those businesses without investment plans, a third said future economic uncertainty was the biggest factor in their decision.
Shane is a senior economics correspondent for The Age and The Sydney Morning Herald.