Such caveats can be applied to any leader: they are always helped by others, they always work with what they have. They are judged, fairly or not, with their advantages and disadvantages intact. And so I suppose what I'm really pointing to is that nothing Morrison has done gives me a good sense of whether he is placed to do well in the future. After two and a half years of his prime ministership, I feel as uncertain of his abilities as I did when he came to the job.
Partly this is because Morrison's success seems to be dramatically affected by the nature of the situation he faces. By training and demeanour, Morrison is a bureaucrat, not an artist or entrepreneur – a responder, not a creator.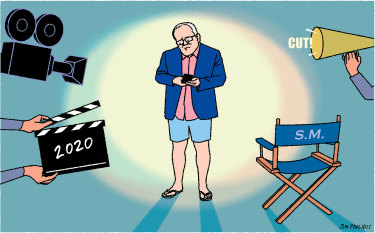 It's often pointed out that the pandemic gave Morrison the chance at redemption after the bushfires farce. That is true, but it is part of a larger pattern. Morrison's first months were marred by some terrible decisions. He was confusing on religious protections, dithered on One Nation preferences, and made a bad decision about our embassy in Israel in a clumsy attempt to win a byelection – which he lost. But when the federal election finally arrived, he won. His leadership has been boom-bust, in long, clear cycles.
If politics followed predictable patterns, this would augur badly for his next few months. Really the central issue for 2021 is whether he will be called upon to respond to events, or to act on his own initiative. His website describes him as a "fixer", and this is when he is most comfortable: when there is an obvious, urgent problem he believes he can fix. In this environment, he does well enough, and sometimes well. When he has to come up with things to do, he is, at best, middling.
There is an important distinction here. There are events which, in any reasonable accounting of reality, demand responses – climate change, say. And then there are events to which responses are demanded by the public.
Loading
Morrison is better at public relations than he is at substance, and it helped that, for COVID, in the early stages, the two demands aligned. The economy looks set to dominate the next year, and the same might happen there. That would be Morrison's luck, and ours.
Or the current outbreak in NSW might change everything. If the state government falters, the economy will take another hit. The conservative, and perhaps conventional, wisdom about 2020 – that Morrison oversaw a national success, hampered only by Daniel Andrews' failures – will be scrambled. And the national mood will change – is changing already.
Christmas is no longer the neat ending we hoped it would be. New Year will not seem like such a new beginning. Some people's holiday plans – in a year in which they felt necessary – have already been ruined. These are not disasters, but they matter.
It would also change the equation for federal Labor. Just as the pandemic created a fog through which it was difficult to judge Morrison, it has been difficult, this year, to judge Albanese. Would any other leader have done better? But politics isn't fair, and opposition leaders, too, get judged with advantages and disadvantages intact.
The greatest threat to Albanese's leadership, next year, lies in the fact that parties always fight the last election. Twice the party chose to stick with Bill Shorten (over Albanese) even when plenty of MPs had their doubts he could succeed. Some MPs will be eager – perhaps too eager – to avoid making that mistake again. Albanese would presumably argue, with some justification, that he has barely had a chance to prove himself.
But if Morrison, in the new year, looks weaker than he has – either because COVID is loose again, or because it is contained and he must search for things to do – then Albanese might get his opening. That, in turn, would bring its own kind of pressure. We might, then, finally get a chance to see just how suited to their positions are these two men we have watched for so long.
Sean Kelly is a former adviser to Labor prime ministers Kevin Rudd and Julia Gillard.
Sean Kelly is a columnist for The Age and The Sydney Morning Herald and a former adviser to Labor prime ministers Kevin Rudd and Julia Gillard